Susan Mallery Describes Her 24-Karat Athlete
Mon, 04/26/2010 - 4:36pm — admin
Contemporary romance author Susan Mallery doesn't follow sports, but she sure knows how to write about athletes! Read more about the althletes who inspired her newest hero, world famous cyclist Josh Golden, in Chasing Perfect.
Originally, the hero of Chasing Perfect, the first Fool's Gold romance, was going to be an engineer studying bio-fuels, but my plot group begged me not to subject my readers to that. Instead, Josh Golden became a world-famous champion cyclist.

And so it is that RT Magazine invited me to talk a little bit about my favorite athletes.

Ahem. Is this where I admit that I don't follow sports? I do occasionally glean information through osmosis while my husband watches a game, but that's about the extent of it. Don't get me wrong. I love reading about athletes… in PEOPLE Magazine. I'm much more interested in who they are than in what they do. As always, for me, it comes down to the emotion, to the heart.

My favorite athlete of the moment is professional golfer Phil Mickelson. Not because he won the Masters for the fourth time but because of the way he's caring for his wife as she battles cancer. That prolonged embrace on the sidelines after he won brought tears to my eyes. Love exists! If Mickelson pulls a Tiger, I don't want to know.

As a cyclist, Josh Golden gets his athletic ability, his leg muscles, and his commitment to his community from Lance Armstrong, but their romantic lives diverge. Everyone in Fool's Gold thinks that Josh is a carefree playboy, and he lets them think that because it's simpler than telling the truth. Only Charity Jones, a newcomer, can see the hurt he's hiding.

Two athletes don't add up to an article. So, as I often do when I need information fast, I turned to my Facebook fans and Twitter followers. "Who is your favorite male athlete and why?" I asked. And, of course, I encouraged pictures because as it turns out, I'm not all about the emotion. Looking at pictures of handsome men is fun, too!

One Twitter follower said her favorite athlete is Formula One racer Jensen Button, and she linked to this picture of him. Hello! Jensen Button looks like Josh's twin! (You can see a photo of Josh on the Who's Who page of the Fool's Gold website.)

A Facebook fan mentioned U.S. soccer player Carlos Bocanegra. Uh, yum. He looks a lot like I picture Raoul Moreno, the hero of the third Fool's Gold book, Finding Perfect, which will be out in September. Readers might remember Raoul as the troubled high school football star in Sweet Spot, the second book of my Bakery Sisters series.

Too often today, we're plagued by news stories of athletes gone wrong, but I don't let that make me cynical. There are a lot of athletes out there with good hearts. These men love and care for their wives and girlfriends (and not both at the same time!), and they use their names to build awareness of and raise funds for some very worthy causes. Baseball player Chase Utley, for example, works with his wife to fight cruelty toward animals, a cause close to my heart. Muhammad Ali is as legendary for his work on behalf of children as he is for his fighting in the ring.

These are 24-karat athletes with hearts of gold.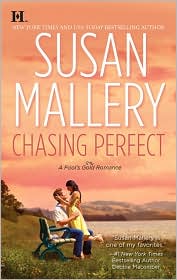 Susan Mallery is the New York Times bestselling author of over one hundred romances and women's fiction novels. Her funny and sexy family stories consistently appear on the USA Today bestseller list and have landed as high as #5 on the New York Times list. Susan makes her home in the Pacific Northwest where, rumor has it, all that rain helps with creativity. Susan is married to a fabulous hero-like husband and has a six pound toy poodle...who is possibly the cutest dog on the planet.

Her latest series, Fool's Gold romances, launches on April 27, 2010 with the release of Chasing Perfect. To learn more about Fool's Gold, visit www.FoolsGoldCA.com.

Join the free Members Only area at www.SusanMallery.com to read excerpts, watch videos, and get a behind-the-scenes glimpse into Susan Mallery's world!