Susane Colasanti Discusses Abusive Teen Relationships And Keep Holding On
Thu, 06/14/2012 - 12:06pm — admin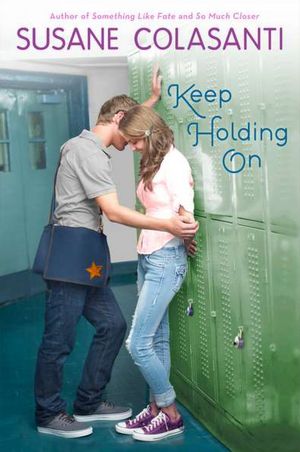 Today author Susane Colasanti talks about the very personal inspiration for her newest contemporary YA novel, Keep Holding On. The story features a heroine who is bullied by her classmates, and her boyfriend. With such an important topic, we wanted to go behind the scenes and ask the author to share some tips for recognizing the signs of an unhealthy relationship and what teens, and adults, can do to foster loving, caring relationships. 
***
"I wish I could lock you up in a room and keep you all to myself."
Romantic or creepy? The correct answer is creepy. But when I was 17 and my boyfriend at the time said those words to me, I wanted to be loved so much that I convinced myself he was just being romantic. Now I know that statements like this can be warning signs of an unhealthy relationship. Recognizing bullying in a relationship isn't always easy to do. Especially when you're so deeply in love you'll do anything to make your boyfriend happy. But it's important to speak up and take a stand against being treated in any way that makes you uncomfortable. Here are some scenarios to watch out for and what to do if you are being bullied.
1. Your boyfriend is controlling
A controlling boyfriend tries to manipulate you into changing your lifestyle or personality. He might not let you see your friends when you want to. You might find yourself always doing what he wants. He might even make you feel stupid for not agreeing with his opinions. But each of you doing things outside the relationship alone or with other friends is important to allow for the relationship to strengthen and grow. Respecting each other's thoughts, feelings and opinions is an essential aspect of a loving relationship.
Take a stand: Let your boyfriend know how important seeing your friends is to you, the same way spending time with his friends is important to him. It's not okay for him to decide everything you guys do. Reassure him that doing things alone doesn't mean you love him any less. In fact, it makes you look forward to your time with him even more.
2. You lose your sense of self
How many times did I pretend to like some boring sport for some guy? Basketball, baseball, hockey — I didn't even recognize myself. As an insecure teen, I felt compelled to transform into the girl I thought my boyfriend wanted me to be instead of being who I actually was. Those insecurities carried over into my 20s. By the time I hit 30, I realized how ridiculous I was being. The right guy for you will love you for who you are, not want you to change into someone else.
Be yourself: Let your true self shine. Be confidant about who you are. The right boy for you will like you for you.
3. Your boyfriend is jealous/suspicious
Does your boyfriend hate that you have guy friends? Does he get paranoid when you go out without him? Does he quiz you about where you went, who was there and get harsh when he finds out other guys were part of the group? Constantly showing that he doesn't trust you is a huge red flag. A healthy relationship is based on trust and honesty. If you feel like you have to hide parts of your life to prevent your boyfriend from freaking out, that's not good.
Speak up: Have a conversation with your boyfriend about why he doesn't trust you. Was he hurt in a previous relationship? Did his parents get divorced? His trust issues are coming from somewhere. If he wants your relationship to last, he should commit to exploring the origin of his insecurities and learning to trust.
4. Your boyfriend doesn't support your goals
If your boyfriend makes fun of your dreams or discourages you from working toward achieving your goals, he's not being a supportive partner. People in a healthy relationship are excited about each other's dreams. They support each other's journey. Your boyfriend should be your #1 fan and encourage you to find happiness in all aspects of your life.
Share your feelings: Tell your boyfriend how it makes you feel when he's not in your corner. Let him know how much his support and encouragement mean to you. You deserve to be with someone who wants you to be happy, no matter where that journey leads you.
Bullying in a relationship is often caused by a partner with serious trust and/or anger issues. Professional counseling could help your boyfriend work through his unresolved issues. If you are being mistreated in any way, please reach out for help. These organizations offer free, confidential assistance:
Love Is Respect — National Dating Abuse Helpline: 1.866.331.9474
RAINN — Rape, Abuse and Incest National Network: 1.800.656.HOPE
Above the Influence — Staying above negative influences: abovetheinfluence.com
Stay Teen — National campaign to prevent teen and unplanned pregnancy: stayteen.org
- Susane Colasanti