A Sweet Giveaway In Honor Of Lynsay Sands' Immortal Ever After
Mon, 02/25/2013 - 3:40pm — admin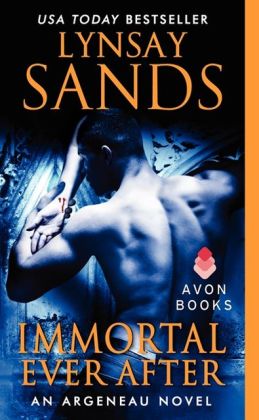 What's sweeter than sweet? A delicious romance! In celebration of Lynsay Sands' latest leading couple, Avon romance is sponsoring one of our most delicious giveaways yet! To promote Sands' Immortal Ever After, we're offering 4 pints of "Valender's Special" — an eCreamery specialty flavor of ice cream created by Lynsay herself in honor of her new book.
What exactly is "Valender's Special," you ask? A combination of heroine Valerie and hero Anders, of course. The author describes the flavor:
"Anders and Valerie are a sweet couple together. Both of them are strong, brave, tenacious and a little nuts as they have no thought to their own safety while fighting rogues. And the vanilla bean/chocolate chip base is the perfect combination of simple yet decadent, which is symbolic of their relationship."
Sands' custom confection has us dreaming about our favorite sweet treats — hunky romance heroes! (What'd you think we meant, desserts? Psh.). Sands' creation got us thinking, if our favorite romance heroes had a unique ice cream flavor, what would it be? After some mixing and matching, here's what we concocted:
Roarke from J.D. Robb's Calculated in Death - Lavender Sorbet
Not all heroes have to be big, bad tough guys. We're not saying Roarke from J.D. Robb's In Death series isn't tough, he just has an appreciation for the finer things in life. To match this man's upscale taste, we thought a refreshing, gourmet sorbet would be fitting.
Drakon from Jane Porter's The Fallen Greek Bride - Greek Frozen Yogurt with a Raspberry Champagne Swirl
Drakon Xanthis is the epitome of passionate. Even after his socialite wife Morgan Copeland left him, his desire for her is still strong. It takes a run-in with Somali pirates to make Morgan realize she needs her Greek husband, and what better way to celebrate a happy reunion than with berries and champagne?
Ryan Kowalski from Shannon Stacey's All He Ever Desired - Strawberry Shortcake
Shannon Stacey's Kowalski men are All-American heroes, each with their own unique stories. When Ryan Kowalski returns home to Maine to help with his family's lodge, he may just get a second chance with an old flame who broke his heart. Like Stacey's loveable Kowalskis, strawberry shortcake is a classic flavor with just enough going on to keep things fresh, and it's certainly one we can't get enough of.
Bowen Montgomery from Maya Banks' Highlander Most Wanted - Rocky Road
As a fierce highlander, Bowen Montgomery is strong, handsome and seemingly fearless. But while he has the advantage of a close knit family and strong clan, his life is far from perfect. Feuds, battles and beyond, have made this hero more than a little jaded. So when he is faced with protecting the mysterious Genevieve, he finds it nearly impossible to trust this complex woman. A rocky road to romance indeed!
Nicholas from Janet Chapman's The Heart of a Hero - Ambrosia
As the food of the gods, we realize that ambrosia is technically a mythical flavor. But in our defense, Nicholas is also mythical — a near immortal warrior from Atlantis. So we figure there is no better taste to assign this towering hunk of a man who is dedicated to helping those in need.
***
GIVEAWAY ALERT: Four readers will win a pint of Sands' "Valender's Special" (if you're wondering how the ice cream will ship, visit the eCreamery website). To enter, comment on this post telling us what flavor your favorite romance hero would be. U.S. residents only, please. Winners will be announced on March 5. For more chances to win, head over to the Avon Facebook page, where they're giving away even more pints of Sands' signature flavor!
BLOG UPDATE: The winners are Vicki S., LSUReader, D.F., Beguile.thy.Sorrow