Syrie James Channels Jane Austen In Her Latest Mainstream Release
Thu, 01/03/2013 - 12:53pm — admin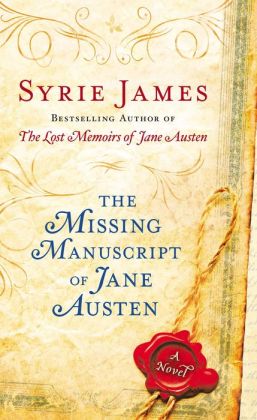 It's been discussed that Jane Austen based various characters in her novels after people she knew personally. Mainstream fiction author Syrie James also incorporates people she knows into her novels, including her newest novel, The Missing Manuscript of Jane Austen. Today the author shares three books in which she weaves people from her own life into her prose and how this practice helps shape her stories:
For my first novel, Songbird (I've just released a newly revised edition in both print and e-book versions) I based many aspects of the handsome and romantic hero, Kyle Harrison, on my husband Bill. I even included one scene that came almost straight from life — the moment when Desiree realizes that Kyle is colorblind. The conflict of that story was inspired by my relationship with Bill in the early stage of our romance. Like the characters in the book, Bill and I had a whirlwind courtship, but we lived in different cities and were faced with the challenges of a long-distance relationship. I'll never forget how devastated I was each time he or I had to get on a plane and leave — and I put that pain and heartbreak into the novel — as well as its happy ending! (Bill and I have been married now for thirty-seven wonderful years, and I am grateful for every minute.)
I based yet another heroic character on my husband. I was halfway through the first draft of my novel Dracula, My Love, and I'd fallen madly in love with my gorgeous, sexy, charismatic Dracula. In comparison, Mina Harker's husband Jonathan Harker seemed bland and unappealing. It was important to me and the story that Mina be torn between these two men — so I realized I had to something to make Jonathan more worthy. To accomplish that, I rewrote it and gave Jonathan all of my husband's best attributes. It seems to have worked, because readers have admitted they so loved both of the men in Mina's life, they couldn't decide who they wanted her to end up with!
In my new novel, The Missing Manuscript of Jane Austen, I based the character of Mrs. Harcourt on my mother. Jane Austen's imperious females were often haughty and unlikable, and I wanted to do something a bit different: I strove to create a domineering lady we could learn to love. My mom was a dear, generous, and congenial woman. She was also very opinionated and felt it was her duty to share her knowledge and "lifetime of learning," as she put it, with others—whether it was a friend, relative, or total stranger. She didn't always go about this in the most tactful way, and sometimes her advice came off more like a lecture, complaint, or brusque command — but in the end she was almost always right! Which is why I always say, we should all listen to our mothers! My mom passed away in 2003, and I greatly miss her. I hope she would approve that I created Mrs. Harcourt in her memory and her honor. (Just to note: Mrs. H is also a hypochondriac — a very Austenian thing — which my mother most emphatically was not.)
- Syrie James
You can pick up a copy of The Missing Manuscript of Jane Austen, available in stores now! For more genre news and coverage visit our Everything Mainstream Page.