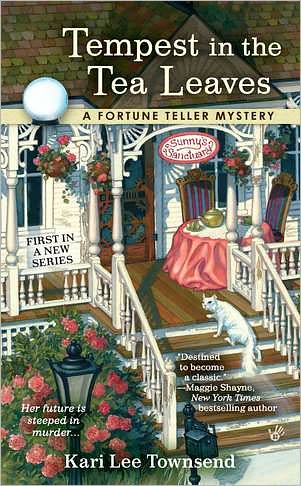 Debut author Kari Lee Townsend will charm readers with the heroine of her new novel Tempest in the Tea Leaves. The psychic Sunny is on a quest to prove that she is not the murderer her local police think she is. But today we asked Sunny to take a break from the challenging work of proving her innocence and instead take a shot at telling her author's fortune!
I parted the beads to my sanctuary, situated at the front of the ancient Victorian house I lived in, and entered with my next client trailing behind me. Her name was Kari. She said she was passing through our quaint, small town of Divinity and simply couldn't leave upstate New York without having her fortune read.
"Okay, Kari, the first thing I'd like you to do is brew the tea." I gestured to the old fashioned tea table in the center. She sat, and I took the seat opposite her.
"This is so exciting," Kari said, her brown eyes sparkling and brown curly hair bouncing off her shoulders as she looked around the table. "Um, where are the tea bags?"
9

COMMENTS
SUBSCRIBE TO RSS FEED
EMAIL
SHARE
PERMALINK
READ ENTIRE POST