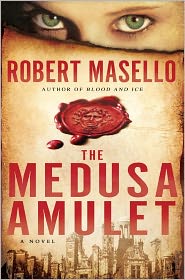 Author Robert Masello's fast-paced thriller takes Scholar David Franco on a quest for a Renaissance mirror that may carry the secret of eternal life. The story combines elements of mystery, magic and history to stunning effect. Today the author chats with us about what inspired him to create this story that crosses genres with such panache.
This morning, I got the e-mail I have always been waiting for. It came from Morgan Doremus, the editor of this website, and it invited me to contribute to this blog.
I feel like a man dying of thirst who's suddenly been offered a tall, frosty beer.
For years, I have been writing books like The Medusa Amulet, which has just come out, and begged my publisher to reach out to the romance reading audience. My books have traditionally been billed as thrillers, or paranormal adventures, and because they do have plenty of action and scares, they are often marketed to a male audience. And trust me, I'm happy to have any audience at all.
2

COMMENTS
SUBSCRIBE TO RSS FEED
EMAIL
SHARE
PERMALINK
READ ENTIRE POST