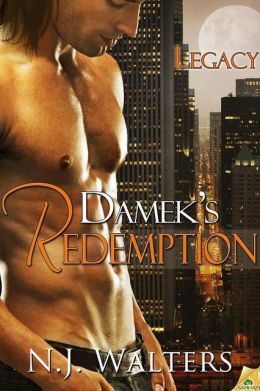 There are times when I feel like every book I review is really like a diary entry and I'm sharing my feels with all our readers. Including my secret never-pass-up tropes. For instance, I will never pass up a coma story. Or an amnesia story. But mostly, I will never pass up a broken, angsty vampire. Ever.
I know what you're saying. "Cyndy, vampires are so over." But here's the thing: They never really are, though. We've been obsessed with sexy vampires doing their thing since at least 1871 when J. Le Fanu's Carmilla brought us its titular hot lesbian vampire.
So when N.J. Walters brings her werewolf series around to the standoffish vampire, Damek, I was intrigued.
Call me crazy, but all romantic vampires are judged against an ideal: not Bram Stoker's Dracula, not Anne Rice's Lestat, but rather, Nora Robert's Cian from her novel Valley of Silence. Cian is my vampire model: alpha male without crossing over into abusive, full of angst and loneliness in an eternity in which he loses anyone he might love — and incredibly sexy when he finally loses his hard-fought control and falls for the heroine.
0

COMMENTS
SUBSCRIBE TO RSS FEED
EMAIL
SHARE
PERMALINK
READ ENTIRE POST