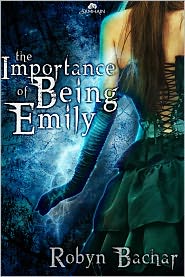 Author Robyn Bachar invites readers behind the scenes for an up-close look at the paranormal world of her two most recent e-books.
When I began building the supernatural world of The Importance of Being Emily and Blood, Smoke and Mirrors, there were a few must-have details that I wanted. First, it was important to me to not have any "accidental" vampires. If a magician wants to live forever, she's going to have to study her butt off, put in years of training, and run the risk of the transformation not working at all. Second, I wanted to include a wide variety of paranormal creatures and magic users. Witches, shapeshifters, faeries, sorcerers, seers, librarians—
Yes, librarians. Magic librarians. Even vampire librarians.
1

COMMENTS
SUBSCRIBE TO RSS FEED
EMAIL
SHARE
PERMALINK
READ ENTIRE POST