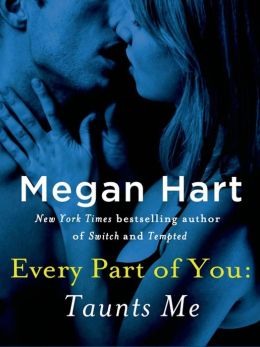 It's time for my part three recap of Megan Hart's erotic serial, Every Part of You, titled "Taunts Me." Part three Elliott and Simone asking "What exactly is it that were doing here?" Is it casual sex? A relationship? Is Elliott too closed off and controlling to let anyone into his life? Does Simone still have the hots for her ex fun buddy? So many questions!
First off, let me say that the two week gap between each part is too much. I kind of forgot where part two left off and had to go back and check. After a fight, Simone and Elliott both end up (separately) at the kind of smarmy Louisiana politician's dinner party. Elliott figured out some business things while watching Simone from across the room, and pretty soon they're groping each other because who can really stay mad at someone they're having fantastic sex with?
They head back to Elliott's place for more sexytimes, during which Elliott urges her to talk more about her masochistic tendencies, which is super dirty and hot.
The morning after …
0

COMMENTS
SUBSCRIBE TO RSS FEED
EMAIL
SHARE
PERMALINK
READ ENTIRE POST