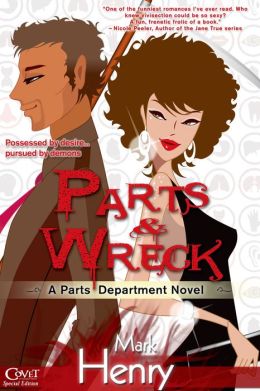 Publishing is a tough business. From cancelled contracts to amazing books that never get their due, it's a tough road for authors and aspiring writers to walk. Today Mark Henry, UF-turned-romance author, is here to tell us about how he got over a major bump in the road, and we're so glad he did! The author shares:
In the interest of transparency, I'm going to do a little oversharing to explain how I came to writing romance. It's a tale fraught with desperation and hardship, love and regret … also horrible periods of overeating. But to say that my publishing journey has been a unique struggle is doing a disservice to the vast majority of writers both aspiring and published. We all struggle, most of us clinging to a career by our fingernails. I'm not especially begrudged or bedraggled and in many ways I'm lucky. Only a very small percentage of us ever achieve a comfortable success. I think as readers with aspirations to join the ranks of our favorite writers, that's an unusual idea to wrap our heads around, that this person who's achieved what I so desperately crave is likely not considered a success and may, in fact, be worried about where they'll scrounge up money for groceries. That's changing in this age of indie publishing, but only for the truly flexible and ambitious. Suffice it to say, up until about about six months ago, I didn't fall into either camp.
After some mighty encouraging buzz, my venture into young adult (Velveteen as Daniel Marks) seemed to have flown so far under the radar as to barely blip. By a month out of the gate, we knew it was a disappointment. This after two years of toiling over that book, rewriting, scrapping half of it post sale and reorganizing it to a degree I'd not experienced during my entire adult urban fantasy series career. I had set my mind to positivity. This book was going to be the one.
Not so much.
1

COMMENTS
SUBSCRIBE TO RSS FEED
EMAIL
SHARE
PERMALINK
READ ENTIRE POST