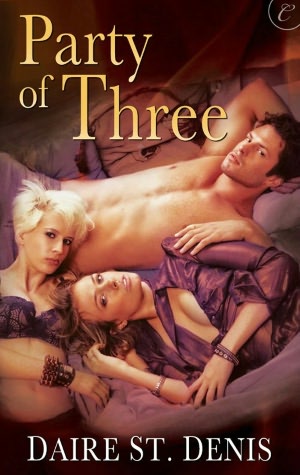 In Daire St. Denis' new release, the author creates a Party of Three that you will want to attend! This sizzling story of love between friends will have you questioning what you thought you knew about threesomes. Today the author stops by to answer our questions about this compelling erotic read and share a look at where she's headed next!
What was your inspiration for Party of Three?
I wish I could tell you it was inspired by an experience back in college … but alas ... Do you ever have two similarly strange things and/or conversations that happen in close succession that make you go, hmmm? When it happens to me, it often foreshadows the birth of a story. I was out with friends one night and one of them was giving me the low-down on the local swinger's scene. I was like, "What? We have a local swinger's scene?" The answer, apparently, is "oh hell, yes!" Anyway, shortly after, a different friend lent me a DVD, Louis Theroux's Weird Weekends, a BBC documentary series where Louis goes around investigating fringe sub-cultures, in this case swinger's parties. Without going into all the misfired synapses in my brain, Party of Three morphed from there. And yes, a swinger's party does make an appearance in the book.
5

COMMENTS
SUBSCRIBE TO RSS FEED
EMAIL
SHARE
PERMALINK
READ ENTIRE POST