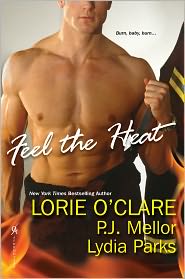 We challenge you to find a woman (or man) who doesn't love firefighters. There is something primal about the heroic nature of someone who will defy their survival instincts in order to rush into fires, not to mention these heroes' physical prowess (and those sexy calendars they come out with). But what actually makes these men and women so hot? Today authors Lorie O'Clare, P.J. Mellor and Lydia Parks chat about the many inspirations for the firefighters of their new erotic romance anthology Feel the Heat, three men who are definitely raising our blood temperature!
Lorie O'Clare says ...
Many of you may have gotten your impression of firefighters from the TV show Rescue Me, and hey, it's a great show. I have it on DVD. :) But after interviewing several firefighters from different houses, listening to their stories, and witnessing for myself the strength and powerful character traits all of them possess, there wasn't any doubt in my mind I wanted to write about this dangerous and action packed line of work.
0

COMMENTS
SUBSCRIBE TO RSS FEED
EMAIL
SHARE
PERMALINK
READ ENTIRE POST