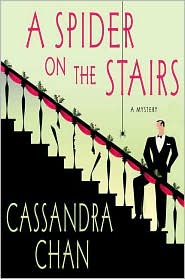 Author Cassandra Chan offers readers an exclusive look at her procedural mystery, A Spider On The Stairs, when she lets her heroes, Phillip Bethancourt and Jack Gibbons do the talking.
Phillip Bethancourt lounged comfortably on the sofa in the living room of his Chelsea flat. "She's writing about us again, you know," he said.
His friend, Detective Sergeant Jack Gibbons, raised an eyebrow.
"We did just solve a case," he pointed out. "She always writes about us when that happens. I don't think," he added, "she can help herself."
But Bethancourt shook his head. He sipped at his scotch and then said, "No, this is different."
"Oh Lord," said Gibbons. "She's not obsessed with our sex lives or something, is she?"
"If she is, you needn't worry," retorted Bethancourt. "I'm the only one of us with a sex life, but I haven't been unfaithful to Marla lately, so I don't think it's that."
Gibbons looked startled. "Lately?" he demanded. "You don't do that on a regular basis, do you? I thought it was just that once…"
"No, I do not regularly cheat on my girlfriend," said Bethancourt indignantly. "What a question to ask a man."
0

COMMENTS
SUBSCRIBE TO RSS FEED
EMAIL
SHARE
PERMALINK
READ ENTIRE POST