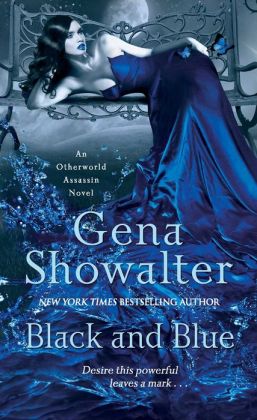 About to crash from all the candy you ate this morning? No? Just us? If you have a similar lack of willpower, you're probably ready for an excerpt break! Today for you we've got the first chapter of Gena Showalter's Black and Blue, the — Top Pick! rated — latest in her Otherworld Assassin series. RT reviewer extraordinaire Jill M. Smith calls this one a "really special … a must buy." So of course we wanted a taste. (Since we can taste no more candy. For at least … three minutes.) Onto the excerpt!
Four years later
What 's wrong with me ?
Evie Black executed her fiftieth lap in the long, rectangular pool that consumed half of her backyard.
The sun shone brightly, heating her skin as well as the water. Very precious water. Expensive. During the human-alien war, a good portion of the world's supply had been contaminated.
But then, she was obscenely rich and wanted fonothing.
0

COMMENTS
SUBSCRIBE TO RSS FEED
EMAIL
SHARE
PERMALINK
READ ENTIRE POST