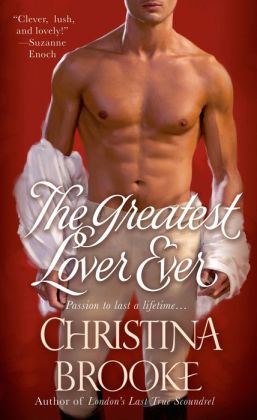 Well, we've made it to Thursday of this first post-holiday week. Surely we've earned another excerpt break! This one was an obvious choice for us, it's from RT Award nominee Christina Brooke. It's an RT Top Pick! And it's called … The Greatest Lover Ever. We think we've said enough.
Christina set the scene for us …
"This is a second chance at love story between one of the most beloved characters of my Westruthers series, Marcus, Earl of Beckenham, and his old flame and former fiance, Georgiana Black. An extremely hot semi-anonymous encounter at a lewd party in Brighton has played on Beckenham's conscience until he decides he must do the honorable thing and propose to Georgie. It is the worst proposal in the history of proposals, so he is roundly rejected! Do these lovers have a chance? And what's the worst or best proposal you know of, in real life or in fiction?"
And now on to the excerpt!
0

COMMENTS
SUBSCRIBE TO RSS FEED
EMAIL
SHARE
PERMALINK
READ ENTIRE POST