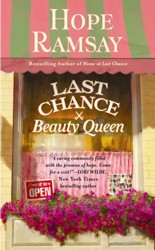 Were you the high school prom queen? Neither was author Hope Ramsay, and we certainly weren't!
High school may not have been our best four years but we've come a long way since then. However, we haven't forgotten our special night of too much hairspray, sequined dresses, spiked punch and a date with two left feet.
Now that we can look back at our youth and laugh (or, at the very least, cringe minimally), we want to see your prom photos: the good, the bad and the ugly in all their glory!
Post your high school prom photo as a comment on Hope Ramsay's blog here and Hope will choose two lucky readers to receive a $25 Sephora gift card — because it's never too late to make up for that bad neon blue eye shadow decision — the winners will also each receive and a copy of her latest small town contemporary romance, Last Chance Beauty Queen.
0

COMMENTS
SUBSCRIBE TO RSS FEED
EMAIL
SHARE
PERMALINK
READ ENTIRE POST