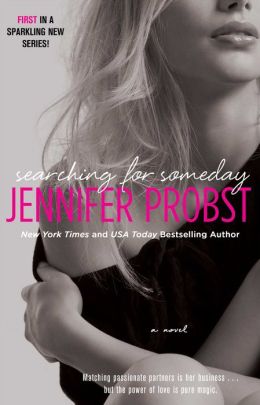 You'd think a romance author would know a lot about finding love, right? Well today Jennifer Probst is here to tell you she hit a lot of bumps on the way to her own personal HEA, just like the rest of us. Jennifer, who is well known for her dashing billionaires, has a new book out about the magic of love, Searching for Someday. And here she reveals her own personal love spell! Plus, try a steamy audiobook excerpt of the book at the end of this post.
Dating is sometimes a real bitch.
Sorry, but I have to be honest. Not to show my age or something, but one of the lines I've always identified with is Charlotte from Sex in the City when she yells out regarding her search for Mr. Right: "I've been dating since I was fifteen. I'm exhausted! Where is he?"
Yeah. That.
I tried many things to find Mr. Right. I took all that goodhearted advice and involved myself in hobbies that made me happy. Unfortunately, that was Friday night Scrabble tournaments with my parents, and no men but the pizza guy ever showed up. I took Salsa lessons, got a crush on my teacher, and found he was married.
1

COMMENTS
SUBSCRIBE TO RSS FEED
EMAIL
SHARE
PERMALINK
READ ENTIRE POST