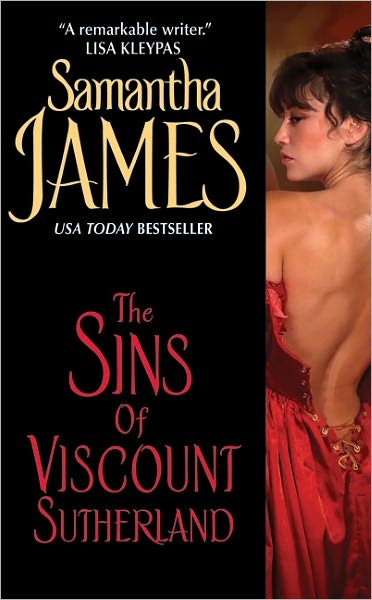 RT brings readers an exclusive first look at Samantha James' upcoming Regency romance. Get a special look at this new novel that puts a twist on the classic revenge tale as we go beyond the back cover blurb with the book's author!
***
The Sins of Viscount Sutherland is the first in my brand new series, the Lords of Sheffield Square. I, like so many readers, love those dark and sexy heroes. This book features such a man, Viscount Grayson Sutherland, who is (obviously!) a sinner, a rogue, a rake . . . on it goes. Yes, he's a bad boy. Yes, there's vengeance. Murder. Revenge. I think there's a classic appeal to this romantic theme, just as there is with the marriage-of-convenience, the kind of story that has an everlasting appeal. Because each story -- each hero and heroine- - is unique. They have a story of their own to tell.
When Gray came alive in my mind, I knew he'd be one of the darkest heroes I'd ever created. Gray is reckless and dangerous. His life had once been so perfect. But all that changed in the space of an instant. Fate had left him battered and embittered and forever lost. He has hardened his himself against everything and everyone.
1

COMMENTS
SUBSCRIBE TO RSS FEED
EMAIL
SHARE
PERMALINK
READ ENTIRE POST