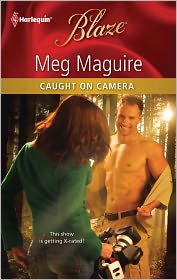 This month Meg Maguire impressed us with her Harlequin Blaze debut, Caught on Camera. The tale overflows with witty banter between the heroine and hero, who take a chance on their chemistry to turn a work relationship into something much more. Today Maguire, best known for the erotic romances she writes as Cara McKenna, gives us an inside look at her series romance and reveals the challenges of writing across genres.
Thanks so much for having me today!
For those who haven't heard of me—which is nearly everyone—I actively write contemporary romance, as well as erotica (under the name Cara McKenna). When I was invited to post, I was asked to talk about the differences I encounter, writing in my two genres. My romances are rather steamy and explicit, so on the surface the differences may not seem so great, aside from the obvious—the numbers of bodies rolling around and the particular bedroom shenanigans they get up to. But the differences run quite a bit deeper than that. The main genre rift for me is all about the external conflict, or lack thereof.
0

COMMENTS
SUBSCRIBE TO RSS FEED
EMAIL
SHARE
PERMALINK
READ ENTIRE POST