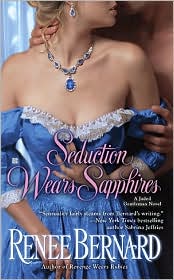 Two historical romance fans go head-to-head on the importance of historical accuracy in historical romances. When they debate about Renee Bernard's new release, Seduction Wears Sapphires, the author also weighs in on how historical facts influenced her writing.
Lizzie Poteet, one of RT's summer interns, is a stickler for historical accuracy. She says, "I understand that in fiction there is a level of, well, fiction and fantasy. But, I hate it when historicals are blatantly inaccurate that I notice things like medieval garb on a Regency duke or inappropriate speech patterns. My books don't have to be 100% historically accurate. They just have to make sense."
Taking the opposite stance, RT's Assistant Web Editor Whitney Sullivan doesn't care so much about the facts. "I'd rather the story be fun than completely accurate. I mean, the number of dukes and earls and lords running around all getting married during the same time period ... well there are more Regency novels published than there were titled men looking for (or accidentally finding) women to marry!"
3

COMMENTS
SUBSCRIBE TO RSS FEED
EMAIL
SHARE
PERMALINK
READ ENTIRE POST