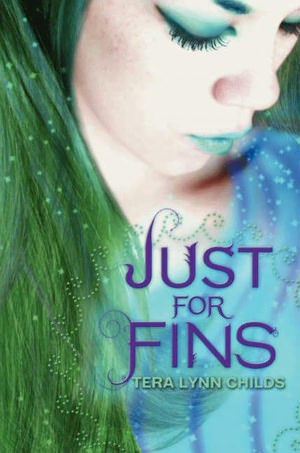 Spoiled shares a look at the books you can't wait to read, long before they hit stores. Today author Tera Lynn Childs gives RT readers a peek inside the third novel in her popular Fins series before the book hits stores in July. Get her take on what it's been like to watch heroine Lily grow up — and what readers can expect from Just For Fins!
***
I first met Lily Sanderson (aka Princess Waterlily of the mer kingdom of Thalassinia) on a beach in Naples, Florida, back in the summer of 2006. She was born of the idea that mermaids have the ability to bestow magical powers with a single kiss and wondering what would happen if a particular mermaid accidentally bestowed her magical first kiss on the wrong boy. Enter biker bad boy Quince Fletcher.
Right from the start, Lily and Quince had chemistry. Mostly because Lily was single-mindedly focus on her All Encompassing One True Love, Brody (who, coincidentally, barely knew she existed) and Quince loved to tease her about her crush … and just about any other topic he could. Of course we all know that he secretly had feelings for her, but couldn't seem to get her attention away from Brody any other way.
1

COMMENTS
SUBSCRIBE TO RSS FEED
EMAIL
SHARE
PERMALINK
READ ENTIRE POST