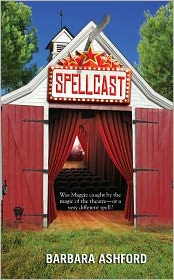 Sometimes where you end up isn't where you are heading. Author Barbara Ashford learned this the hard way when her new fantasy novel, Spellcast, became much darker than Ashford had anticipated writing. Today the author chats with us about the original ending of what RT's Senior Reviewer Natalie A. Luhrs calls a "compelling" story about "the transformative power of theater."
"Welcome to the Crossroads."
After I typed the final words of Spellcast, I sat back and stared at the computer screen in disbelief. This was not how the book was supposed to end.
When I pitched the idea to DAW Books, I knew the basic plot. Maggie Graham loses her job in New York City. Drives up to Vermont for a getaway weekend to regroup. Stumbles upon the Crossroads Theatre. Reluctantly allows herself to be lured back into the world of theatre that she had abandoned years earlier. And – with equal reluctance – falls under the spell of theatre director Rowan Mackenzie, a man with strange powers and a mysterious past.
1

COMMENTS
SUBSCRIBE TO RSS FEED
EMAIL
SHARE
PERMALINK
READ ENTIRE POST