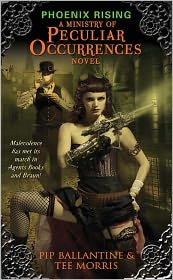 This month co-authors Pip Ballantine and Tee Morris begin their Steampunk series with Phoenix Rising. The story surrounds the events at the Ministry of Peculiar Occurrences. With a name like that, we knew we had to ask the authors what this department is all about.
peculiar
adjective
strange or odd; unusual : his accent was a peculiar mixture of Cockney and Irish.
• [ predic. ] informal slightly and indefinably unwell; faint or dizzy : I felt a little peculiar for a while, but I'm absolutely fine now.
occurrence
noun
an incident or event : vandalism used to be a rare occurrence.
• the fact or frequency of something happening : the occurrence of cancer increases with age.
• the fact of something existing or being found in a place or under a particular set of conditions : the occurrence of natural gas fields.
1

COMMENTS
SUBSCRIBE TO RSS FEED
EMAIL
SHARE
PERMALINK
READ ENTIRE POST