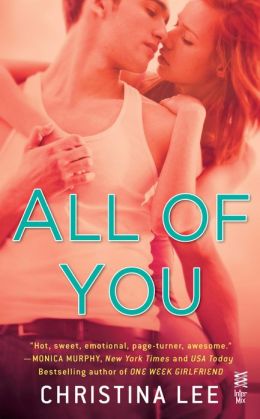 When we first heard about Christina Lee's new adult romance, All of You, we were immediately drawn in by the story's unique premise. The way she has taken the usual bad-boy, good girl trope and turned it on its head is refreshing and intriguing. Today, Christina chats about All of You, her transition from newspaper columnist to fiction writer and new adult literature — she even spills some details on the upcoming companion novel, Before You Break!
Your first official foray into writing was as a newspaper columnist. How have your experiences in journalism influenced your novel writing?
Even in newspaper writing, where fact-gathering is essential, every column had a beginning, middle and end, with hopefully a compelling enough story to keep the reader's interest. But probably the biggest way my experience as a columnist influenced me was that it helped me realize that I truly wanted to write fiction. I wanted to create imaginary worlds with realistic characters, and so I completed my first full-length novel in 2008.
0

COMMENTS
SUBSCRIBE TO RSS FEED
EMAIL
SHARE
PERMALINK
READ ENTIRE POST