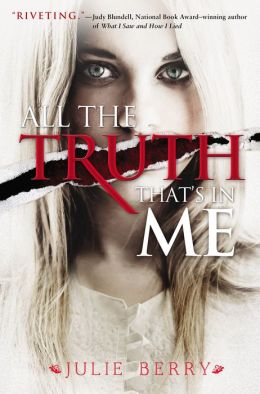 Julie Berry's All The Truth That's In Me is quickly garnering praise from critics and readers alike for its unique story and second-person narrative. The plot summary caught our attention immediately: Judith and her best friend disappear. Only Judith comes back alive, but she's been mutliated, and can no longer speak.
Today we have an electrifying excerpt from the book, and Julie shares her thoughts on what this scene means to her and what it was like to write it. Take a look:
***

EXCERPT:

You sink down on your haunches. I see the boy I once knew in your huddled limbs and face. Jip curls up beside you.
You're soaking wet, and the wind is cold.
You lay yourself down in a hollow of ground, still clutching the handle of your ax.
Your eyes close, and still I watch. I am alarmed for you — this is not like you. I know you are assaulted on every side, by jeering youth and gossiping women, by wedding bells and memories. But this, and the bottle, these aren't like you.
In time, you sleep.
0

COMMENTS
SUBSCRIBE TO RSS FEED
EMAIL
SHARE
PERMALINK
READ ENTIRE POST