Take A Tour Of Heather Rainier's Divine, Texas
Mon, 09/17/2012 - 12:10pm — admin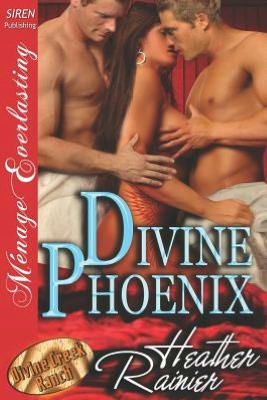 What better place to find a group of sexy, hard-working men than on a ranch? Heather Rainier's Divine Creek Ranch series follows the women of Divine, Texas and the hunky ranchers who want to fulfill their fantasies. The latest story in the series, Divine Phoenix, earned 4 1/2 stars. Today the author offers readers a tour of Divine, Texas and discusses what makes this town — and it's residents — so special.
Divine, Texas is nestled into the western edge of the Texas Hill Country and is the anchor for the Divine Creek Ranch Collection. Among its small population is a growing core of permanent ménage relationships. On the surface, the heroes and heroines of Divine deal with the same issues we all do. My heroines also face the deeper, sometimes scarier, challenges associated with loving more than one man and the censure it might bring her if she follows her heart. The payoff is the heroes who do their best to make it worth her effort while keeping her on her toes.
I've been asked so often by readers if Divine, Texas is a real town—and if I have a map to it—that the question has developed into a tagline for the series: "More than just a place on the map." Readers want to believe that such a town exists, or could exist. I think it's the magic behind the mundane that surprises and appeals to so many readers. It's a realistic setting where fantasies can still play out.
On the surface, Divine is just like any other Texas town, with citizens who think for themselves and don't fall hook, line, and sinker for whatever pops up on the evening news. People mind their own business and overlook the occasional slip, like a woman holding hands with two men, because the parties involved are most likely upstanding citizens. But that doesn't mean living in Divine is a free ticket to "polyville." They still have to show restraint around town because there are those who like to point the finger. All it takes is one or two crazed vigilante stalkers to convince them that although the world is more open-minded than it used to be, discretion is still key. Right or wrong, they all make up the fabric of Divine, Texas.
The Dancing Pony is a prime example of how the settings in the town have taken on a life of their own. When I take readers there, they know to expect something beyond the normal nightclub action. A heroine might be treated to an Orgasm on the Dance Floor—no, that's not the name of a popular drink—or meet the men she's going to love for the rest of her life. "The girls" risk inciting minor riots when they all hit the dance floor together for at least one song. The one thing guaranteed by the sexy co-owners and flirtatious bartenders is a party.
Small businesses still thrive in Divine because the folks are independent. There are establishments that have been in families for years, sometimes generations, like Stigall's Department Store and Cheaver's Western Store. It's the possibilities that lurk under the surface in these ordinary places that make Divine intriguing. The elevator that a secretary rides to work in is also someone's favorite naughty ménage spot. The faulty latch on the men's dressing room door at Stigall's has afforded at least one blushing salesclerk a gander at something slightly more unmentionable than tighty-whities. If the walls of the private dining rooms at Tessa's could talk I think even I'd be taking notes.  
Then there's the Divine Creek Ranch and its neighbors. Ranches are a marvelous setting for a ménage romance. The fresh air and wide open spaces to play in and the promise of seclusion and a simpler way of life appeal to our overstimulated, stressed-out daily lives. What could be better than coming home at the end of the day and having not one but two or three men to reach for? Especially if those men know how to cook and do their own laundry! Take the seclusion of a rural ranch setting, add in my salacious imagination, a curvy heroine, two or three hot Texan men, and ménage magic is what I'll give you.
What sets my town apart? The true to life setting, characters who are like friends we know in real life, and places that feel like home. It's easy to imagine living there, and the possibility that Divine could be a place on the map.
- Heather Rainier
Want to take a trip to Divine, Texas? You can pick up Divine Phoenix, available from online retailers now! For more steamy romances, visit our Everything Erotica Page.