A Tale Of Two Genres With Maureen Child (aka Regan Hastings)
Tue, 02/08/2011 - 3:21pm — admin
It's "Inside the author's studio" with Maureen Child who also writes paranormal romances under the pen name Regan Hastings. Today this talented author shares what it's like to write across genres and what she does to sweep fans off their feet, no matter which genre of books they read.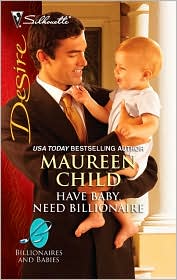 As Maureen Child, I've written a lot of books for Silhouette Desire (soon to be Harlequin Desire). As Regan Hastings, I launched my brand new Awakening series of dark paranormal romances last week with the release of Visions of Magic. In both the category novels and the single titles, I created a fantasy experience for the reader, but of a very different sort.
For example, with January's Have Baby, Need Billionaire, I created billionaire Simon Bradley. Tula's love for him will have nothing to do with his money, of course, but the reader will know that she'll never have to worry about how to pay her utility bill. She'll have a life with the man she loves and who loves her, plus she'll live in comfort and security forever. Desire readers tell me all the time that they love imagining themselves living in the heroine's shoes.
The fantasy world I created in Visions of Magic, on the other hand, is not a place you'd want to live. It's a dark and dangerous world where women who are suspected of witchcraft are imprisoned without trial. Fear is ubiquitous and has been for ten years, since society learned that magic is real. And the fear is founded in eye witness accounts of witches doing terrible things like setting people on fire.
The urban fantasy world of the Awakening series is a gritty place, where the stakes are life and death. In my Desire books, the stakes are real but do not involve physical danger. In Have Baby, Need Billionaire, the welfare of an adorable little boy rides on the outcome.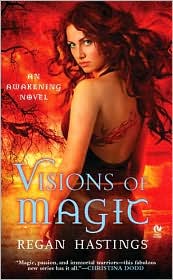 The characters who move through the worlds of my single title and category books do have some traits in common. The heroines are strong and self-sufficient, with an endearing vulnerability. The heroes are honorable, loyal, and fiercely protective of the women they love. They would sacrifice themselves in a heartbeat to guard her safety.
And, of course, they're so handsome that they don't seem human. In Visions of Magic, the hero isn't human. He's an Eternal, an immortal warrior-guardian who has watched over Shea through many lifetimes and has sworn to safeguard her as she and her sister-witches battle evil to save the world. The heroes of my Desire books possess 100%, pure-grade human DNA.
This pairing of an independent, intelligent woman with a strong, proud man creates palpable tension in both the Desires and the Awakening books. The sex is culminated in both, but the heat in the Awakening books is scorching and has unexpected consequences. Magical consequences.
In both cases, the love scenes are about much more than sex. During these intimate moments, the reader will discover that this man and this woman are made for each other. Together, they will be stronger than before. A team of two, prepared for anything that comes their way.
- Maureen Child aka Regan Hastings
You can check out these two different "fantasy experiences" for yourself in Have Baby, Need Billionaire by Maureen Child and Visions of Magic by Regan Hastings both in stores now!