Tammy Falkner Shares Five Reasons You Should Never Fight With A Fairy - With Giveaway
Mon, 06/10/2013 - 1:58pm — admin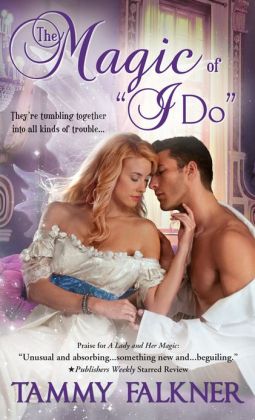 Fairies can be a fickle — and sometimes downright evil — bunch. They're magical, powerful creatures that can cause a whole lot of damage without much effort, and you definitely don't want to cross one. Today romance author Tammy Falkner, whose paranormal historical romance The Magic of "I Do" features a fairy heroine who accidentally finds herself in the mortal world, shares with us why you never want to fight with a fairy— something her human hero doesn't seem to understand! Plus, enter to win a copy of the book at the end of this post.

***
Reason #1 why to never fight with a fairy: Since they're magical, one never knows how much fairies know about private issues. Can they see the future? Can they see the past? Do they know more than humans? Take this scene for example, from the beginning of The Magic of "I Do," which happens when Finn takes Claire hostage and steals her magic dust so she can't get away.
"You really should return my dust to me before it does you harm." She didn't look at him as she talked. She continued to stare at the changing landscape. They'd left behind the bustle of Mayfair and were headed toward … nowhere, it appeared.
"And just what kind of harm might a little bottle of shimmer do to me?" He looked much too composed.
"It could explode and blow off an arm." She finally turned to look toward him and found him grinning at her unrepentantly. That man had a smile that could stop a lady's heart. Though it had no effect on hers. Well, almost no effect. His sparkling blue eyes made him look impertinent enough to annoy her to no end.
He held out his hand and appraised his arm with a critical eye. "I can live without an arm." Lord Phineas swiped a lock of hair from his forehead and lowered his arm back to his side. He arched a golden brow at her as though taunting her to continue her threats. He hadn't seen threats yet. Just wait until she turned him into a toad. Or a pig so that his outside could reflect his inside.
Claire let her gaze roam up and down his body slowly. "It might blow off something you use on occasion." Her eyes stopped at his lap. He fidgeted in his seat. "It's really quite volatile in the hands of the untrained."
That wasn't true. Not in the least little bit. But he didn't need to know that. In his hands, the dust was useless. Just shimmery flecks of shiny things he didn't understand. In her hands, however, it was quite useful. If she wasn't afraid to commit one of the Unpardonable Errors — never use your magic to do harm — she would take a chance and wrest it from his possession. But if she had the dust in her hands right at that moment, she would use it to harm him. In a most satisfying way.
She forced herself into a casual shrug. "Take a chance. Blow off an appendage. Perhaps you'll be lucky and it'll be the smallest one. One you probably don't get to use much."
His smile vanished. "I can assure you there's nothing small about my appendage."
She grinned. "That's not what she said…" She left the taunt dangling in the air.
Reason #2: They often have a rapier sharp wit. Well, at least Claire does.
He patted his pocket, where the vial of dust was still safely hidden. "Do I look like an idiot?"
She tilted her head at him. "Well, as a matter of fact…" She blinked those innocent green eyes at him.
Reason #3: Why argue when you can just agree and save yourself the trouble? (I edited this to make the following excerpt PG-13!)
"Don't worry. I won't fall in love with you," she said, as she pulled his bottom with her heels.
The next move was his as he retreated. "I don't love you, either."
"I can never love you. It's forbidden."
"Thank God," he groaned.
Reason #4: They tend to come and go as easily as the wind. Like when Claire rode the wind back to the land of the fae after their first intimate encounter.
He dashed across the room to where he'd left the clothes he'd discarded so carelessly the night before. His clothes were gone. The vial of magic dust was gone. And so was Claire. He ran a hand through his hair. She was gone. Claire was gone. The evidence of her lost innocence the night before stained the bedclothes. What they had done wasn't gone. But she was nowhere to be found.
Reason #5: They have garden gnomes that bite, spit and protect them fiercely. Have you met Ronald? If not, here's a picture:
Fairies tend to be a sneaky bunch. They don't live by the same rules as the rest of the ton, live by their own Unpardonable Errors and answer to a different, Trusted Few. They can be snarky, sneaky, and downright shrewish. But they're also fiercely loyal to those they love.
But the most important reason never to argue with a fairy? They're usually right. Unless it comes to matters of the heart. Then they're wrong. Often. Disastrously. Comically. Perfectly.
Love is hard for fairies. But once they fall, they find their own wings are not the only things that can keep them aloft.
- Tammy Falkner
GIVEAWAY ALERT: Three lucky readers will win a copy of The Magic of "I Do." To enter, comment on this post telling us what supernatural creature you wouldn't want to get in a fight with. You can also e-mail your answer here with the subject "Tammy Falkner Giveaway," along with your mailing address. U.S. and Canadian addresses only, please. Winners will be announced here June 17.
UPDATE: The winners are Amanda Ray, Barbara Elness and jane mccarthy.
You can pick up a copy of The Magic of "I Do," available in stores and online now. For more historical reads with paranormal twists, visit our Everything Romance Page.