Tara Sue Me On How The Submissive Went From Twilight FanFiction To Published Novel
Thu, 03/07/2013 - 12:19pm — admin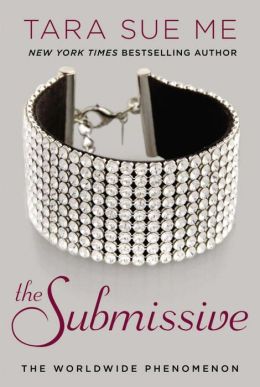 Tara Sue Me's The Submissive is a sensual BDSM romance about a young woman who gives in to her secret desire to have one of New York City's most desirable, powerful men control her in every way. The story, which was recently picked up by Penguin, was originally written as Twilight fanfiction. Today the author shares how the tale went from a post on fanfiction forums to a (soon-to-be) published paperback.
When I started writing The Submissive and posted it online as Twilight fanfiction, I'd recently completed my first novel. It was a sweet romance, but a cross genre work I knew I'd have difficulty finding a home for.  While I queried it, I started The Submissive as a writing exercise to see if I could write an erotic romance. I viewed it as a way to step into something new since writing love scenes was totally outside of my comfort zone.
I never expected The Submissive to have the readership it gathered. At that point (early 2009) there was very little BDSM fiction in the Twilight universe. That changed quickly in the months that followed. The most well known Twilight fanfic, "Master of the Universe" (the fic that became Fifty Shades of Grey), started in September 2009 and soon thereafter the fanfic world changed forever.
I wasn't able to write at all in 2010 due to personal health issues, and I became inactive in the fanfic community. By 2012, I was better and started writing again.
I'd discovered by that time I enjoyed writing erotic romance, so I started a new BDSM series.
In the summer of 2012, I was approached by Red Publishing about publishing the Submissive trilogy. I initially declined — it was a writing exercise, it was fanfic that had been posted online for three years, and it was BDSM and wasn't everyone tired of that? But I eventually signed a contract for not only the trilogy, but also the first book in my new series. Earlier this year, NAL [Penguin Group] acquired the rights to all four works.
I had a reader post a question on my Facebook page I thought was excellent. She asked if I viewed Nathaniel and Abby as Edward and Bella with new names. The answer is "no." When I took The Submissive down and reworked it, I changed certain characteristics of the characters. I made them both older, I set them in a new city, and I changed their families around.
While the plot of The Submissive hasn't changed much, I feel the characters have. Their dialogue had to change some and internals were revised. In the fanfic, Edward bought Bella a car. That didn't sit well with me as I was going through the rewrite. Abby is very insistent that she does not want Nathaniel to buy her a car. As I learned more of who Nathaniel was, it didn't make sense that he would ignore something she felt so strongly about. That part changed as well.
With NAL acquiring rights, I'll be able to share the Submissive trilogy with a broader audience. These characters and their journey were an absolute joy to write. I think of them as old friends and I'm excited to introduce them to new readers.
- Tara Sue Me
You can download a copy of The Submissive, available as an e-book now and in paperback on June 4. For more hot romance visit our Everything Erotica Page.