Tara Taylor Quinn Shares The Best Advice She's Ever Received - With Giveaway!
Thu, 05/05/2011 - 10:20am — admin
Today author Tara Taylor Quinn shares her past with readers and explains how (and why) she incorporates her own experiences into her writing. And don't miss your chance to win a copy of her new novel, It Happened on Maple Street, at the end of this post!
My life is an open book. At least, as of April 1, 2011 it is. Before that I had fifty-five books published with Harlequin and MIRA and I lived my life in hiding. I was living with a twenty-seven year secret of domestic violence. That changed with the publication of It Happened on Maple Street, co-authored with Tim Barney, my husband and the love of my life. It Happened on Maple Street is our true love story. And the story of the healing power of love. I am all over those pages, by name. My shame, my guilt, and my struggle to find faith in myself and trust in love are all there for the world to see. My family and friends, as they read this book, are finding out for the first time about the secrets I kept all those years. 
I'm told the book is a great read, just as a novel, too. The reviews have been wonderful. I am, after all, an author. I know how to pen a tale. This time, though, I don't need character cards for my hero and heroine. I have real life breathing every breath into my characters.
And I realize, now, for the first time, just how much of myself I've been giving to the characters of all of my romance and suspense novels. I haven't lived all of their experiences, but I used my own suffering, my own pain and my own joys to breath life into those fictional characters just as I used them when I wrote my own true love story. All of those years of while I was hiding in silence, I was speaking out, within the pages of my novels. It is my life's experiences that allowed me to connect with the depths of emotions that speak to my readers – that connect my characters to my reader's hearts.
I wrote a book about a woman who'd been a prostitute (Her Secret, His Child – Harlequin Superromance, 5/99). She'd had a life changing moment and when the book opened, she was a successful accountant, a respected community member in the town she moved to when she changed her life, and a devoted single mother to her healthy, loving, and well-adjusted seven-year-old daughter. In walks a man from her past – her last john. As soon she sees him in her town she is swamped with the feelings of shame, guilt and unworthiness that led her into the life of prostitution to begin with. She feels like a fraud. That she's not good enough to raise the precious, innocent little girl she adores.
I was never a prostitute. But unfortunately I could pull on my own feelings of unworthiness to get that heroine's heart and soul onto the page. As a victim of domestic abuse, I felt just as ashamed, as unworthy to raise my own sweet daughter. 
But it didn't stop there. My prostitute heroine was a wonderful mother. She gave her life to raising her child, to making a good and healthy life for her. On the pages of that book, I showed that a woman who has made bad choices is still capable of being a fabulous mother. Sometimes because of the bad choices, she is a fabulous mother. She's learned the hard way the worth of being a good parent – the worth of unconditional familial love.
I needed to redeem my prostitute for her daughter's sake, just as I needed to redeem myself for my daughter's sake. I needed to show that a woman who'd made mistakes could still be a good mother. 
As I look back over my current body of work I can see bits of my silences coming out in all of my fifty-five fiction novels. And I expect that they'll be there for the next fifty-five as well!
What about the rest of you? As readers as well as writers, do you find yourself in the books you read? Or write?
This post is brought to you as part of the It Happened On Maple Street International Blog Tour. For a complete tour schedule visit www.tarataylorquinn.com. All blog commenters are added to the weekly basket list. Gift Basket given each week to one randomly drawn name on the list. Next tour stop: Wednesday, May 6, MIRA Authors: http://community.eharlequin.com/content/mira-author-blog.
If you or someone you know is a victim of domestic violence, or if you suspect someone is, please contact www.thehotline.org, or call, toll free, 24/7, 1-800-799-7233 (SAFE) or 1-800-787-3224 (TTY). The call can be anonymous and is always confidential. There is not one second of life that is worth wasting.
- Tara Taylor Quinn 
You can pick up Tara Taylor Quinn's It Happened on Maple Street in stores and online now or enter to win your own copy below!
GIVEAWAY ALERT: One lucky winner will receive a copy of It Happened on Maple Street to enter leave a comment about something that the challenges in your life have inspired you to do. Or email your comment here with your US mailing address and the subject line "Tara Taylor Quinn's It Happened on Maple Street Giveaway". The winner will be announced on May 19!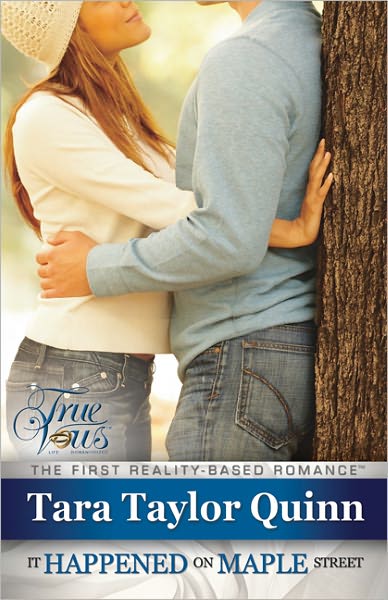 BLOG UPDATE 5/26/2011: And the winner is ... Lynda K!