Test your Allison Brennan Book IQ and Win a Prizepack - Now Enter to Win Until January 4th!
Fri, 12/17/2010 - 10:08am — admin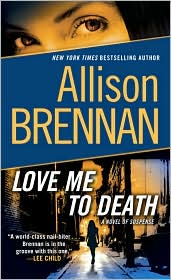 Suspense lovers will want to check out the January release Love Me to Death by Allison Brennan. This is the first book in the Lucy Kincaid series. As a teenager, Lucy was abducted and nearly killed as her family rushed to save her in the 2007 release, Fear No Evil. Now an adult and waiting to join the FBI, Lucy may be on her way to finding love, but first comes some major crime fighting.
To get you ready for the new series we thought it would be fun to revisit her past and the Kincaid family, many of whom have already gotten their own happily ever afters. Take the quiz below and see how much you know about the Kincaids. Several readers who answer all the questions correctly will win books from the author:  
1.How many children are in the Kincaid family?
a) 3
b) 5
c) 7
2. Who is Carina Kincaid's partner?
a) Jim Gage
b) Will Hooper
c) Hans Vigo
3. Which couple were married at the end of Killing Fear?
a) Connor & Julia
b) Nick & Carina
c) Dillon & Kate
4. When was Lucy Kincaid kidnapped?
a) Her birthday
b) Her high school graduation 
c) Christmas
5. Jack Kincaid was in what branch of the military?
a) Army
b) Air Force
c) Marines
To enter this contest, e-mail your name, address and your answers to Faygie@RTBookReviews.com. Please put "Brennan" in the subject line. One entry per person, please. The winner (and the answers) will be revealed on this blog on January 4th.
BLOG UPDATE 1/4/2010: The correct answers are 1 (c), 2 (b), 3 (b), 4 (b), 5 (a). And the winners are ... Jane C., James K. and Erinn G.