Thoughts Of Something Wicked From The Sisters Of Suspense, Lisa Jackson And Nancy Bush
Wed, 06/05/2013 - 1:41pm — admin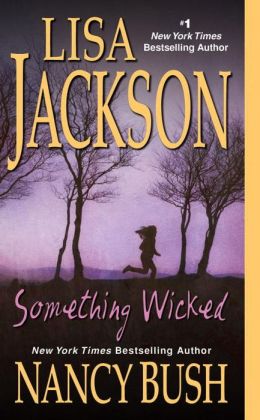 What's better than a spine-tingling romantic suspense written by a bestselling author? A spine-tingling romantic suspense written by two bestselling authors who just happen to be sisters! Something Wicked, the third story in Lisa Jackson and Nancy Bush's fast-paced Colony series, focuses on a sadistic serial killer who uses sex as a weapon and the female investigator who is determined to stop his evil plans. The only problem — as a surrogate for her sister, Detective Savannah Dunbar just happens to be eight months pregnant and in no condition to be hunting criminals. Too bad she is the only one who stands in the way of more grizzly murders. Conspiracy, mystery and sisters — sure sounds like a winning combination to us! Today we have the authors discussing how they write together and how Something Wicked was born.
Lisa Jackson: The idea for Something Wicked really started when Nancy and I went to a conference in 2007 and dreamed up the whole Colony series in our down time. We wanted to add a touch of paranormal to the stories and that's where we came up with the idea for The Colony. We were so excited about the concept that we drove past our exit on the freeway!
Nancy Bush: The Colony was first introduced in Wicked Game, the first book of the series, and revolves around a group of women who live together at a lodge called Siren Song on the Oregon coast in the fictional town of Deception Bay. These women possess special gifts and the locals kind of squint at them sideways. They think they're pretty weird.
LJ: Well ... ?
NB: They are pretty weird.
LJ: You got that right! Anyway, we always knew there would be a book that delved deeper into the Colony's secrets and Something Wicked is that book.
NB: Both the protagonist, Detective Savannah Dunbar, and part of the plotting for the mystery in Something Wicked, were first introduced in the book before it. In book two, Wicked Lies, a double homicide took place at Bancroft Bluff, or Bankruptcy Bluff as the locals call it since the houses on that bluff are about to slip into the sea. In Something Wicked we dig deeper into that investigation and there are fingers of involvement that seem to reach back to the Colony, too.
LJ: Savannah gets roped in by Catherine Rutledge, the Colony's matriarch, to find out what really happened to her sister, Mary Rutledge Beeman, who everyone thought was dead and buried in the graveyard behind Siren Song. Mary, who actually was exiled on a tiny island off the coast, was found dead at the end of Wicked Lies, a knife in her chest. Savannah reluctantly agrees to investigate as dealings with Catherine and the Colony are never what they seem.
Lisa Jackson and Nancy Bush

NB: Savannah herself is in the late stages of a surrogate pregnancy for her sister, Kristina St. Cloud who's married to Hale St. Cloud who just happens to be the grandson of Declan Bancroft whose company built the houses on Bancroft Bluff.
LJ: Say that again twice.
NB: Hah! As Something Wicked unfolds the homicides at Bankruptcy Bluff and Mary's story start to head to some distant point where they may intersect.
LJ: Or, may not. Along the way the other women at Siren Song are explored more. One of my favorite characters is Ravinia, the youngest Colony member, who's hard-headed and determined and looking to escape Siren Song's walls.
NB: Though Something Wicked gives a closer look into The Colony, there are more secrets to reveal.
Lisa Jackson: Yep. We love the series and are already working on book four, Wicked Ways! There's more info about the series on each of our websites, www.lisajackson.com and www.nancybush.net. Also, we've leapt into the social media fray, and you can find us on Facebook (Lisa/Nancy) and Twitter (Lisa/Nancy), so join the conversation. We're pretty ramped up about the release of Something Wicked! Believe it or not, it is possible to write with your sister and not want to kill her, at least for me.
Nancy Bush: Ditto!
You can pick up a copy of Something Wicked, abailable in stores now. For more tales of romantic suspense, visit our Everything Romance Page.