Three Questions for … Author Ellen Marie Wiseman
Thu, 12/26/2013 - 11:30am — admin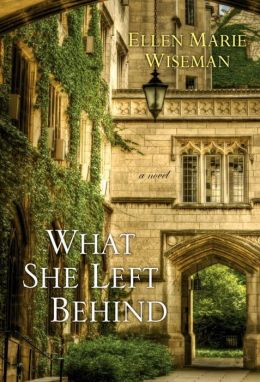 History books are filled with the deeds of war heroes and kings, but up-and-coming author Ellen Marie Wiseman peers into the lives of the children who slipped quietly through the cracks in her latest novel, What She Left Behind (Kensington). Alternating between the past and present, the story follows 18-year-old Clara Cartright, whose parents committed her to a mental institution in 1929 after she fell in love with an Italian immigrant and refused an arranged marriage, and 17-year-old Izzy Stone, a foster kid who finds Clara's letters decades later in the now-abandoned state asylum after her mother is sentenced to prison for murdering her father. Here, the author explains more about these two characters, whose resilience in the face of unthinkable circumstances transcends time.
1. How were you able to flesh out your characters with historical details when dealing with people whom society has largely forgotten?
To flesh out Clara, I started by researching the time period to understand what her external life might have been like; the clothes she might have worn, the food she might have eaten, what her hairstyle might have been, whether her home would have included the latest inventions; electric lights, a telephone, a motor car or an ice box. Then I put myself inside Clara's head, starting with her education level, the constraints against women in that era, her hopes, dreams and struggles. Like all us, Clara had quirks and idiosyncrasies, and she want to be loved and accepted. Then I imagined what it would have been like to have her committed to a public asylum. Suddenly she became a patient, one of thousands whose lives have been largely forgotten. Again, it was a matter of researching insane asylums, what they looked like, how the patient wards felt and smelled and sounded, what types of treatments were used. Then I went inside Clara's head again, putting myself in her situation. What would it feel like to have your entire world taken away, to lose your freedom, to receive treatments you didn't need, to have the people who were supposed to be helping you disregard everything you say? Hopefully, by making Clara an ordinary young woman, it's easier to put ourselves in her shoes, to experience what she must have been feeling, to sympathize with the thousands of real women who were committed under circumstances we view differently today. 
2. Do you think abandoned kids are better or worse off now than they were in 1929?
When it comes to abandoned children, there are so many factors involved that I think I'd have to write another book to answer this question properly! But I'll do my best. Foster care existed in 1929, but I think it was easier for a child to slip through the cracks, making them vulnerable to other problems, such as becoming homeless, exposure to crime or being exploited. On the other hand, if they were in the system back then, their chances of being adopted might have been better than they are today. Some of the laws in place now make it harder to place children in permanent homes, forcing them to spend more time in foster care. In the end, I think it has to be looked at on a case-by-case basis.
3. How do you think Clara would have responded if she had found Izzy's notebook (in some sort of time-traveling situation), instead of the other way around?
That's an interesting question! I think when Clara read about Izzy cutting herself to deal with her emotional pain, she would have wondered why Izzy wasn't in an insane asylum! Cutting yourself? Who would do that? And after being brought up by a woman who didn't seem to care about her children, Clara would have been surprised and shocked at how far Izzy's mother went to protect her. She also would have been taken aback at how badly Izzy's classmates treated her, and that they got away with it in school. In Clara's day, students would have been punished for far less. Clara would have a hard time understanding some of Izzy's issues, and why she was sent one from one foster home to another. She would have envied Izzy's freedom to work in a museum, to further her education and to spend time with her friends.
What She Left Behind is on sale next week at your favorite bookstore or e-tailer! For more mainstream stories, visit our Everything Mainstream page.