Three Questions For Author Mira Grant
Tue, 12/04/2012 - 11:12am — admin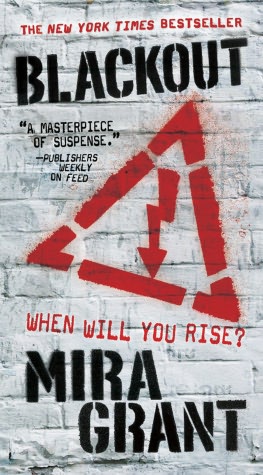 Mira Grant, the pseudonym for Urban Fantasy author Seanan McGuire, released the final book in her Newsflesh trilogy, Blackout, this year, which earned a 2012 RT Readers' Choice Awards nomination. The trilogy follows two young blogger journalists as they dig to uncover the conspiracy that caused a zombie-like plague twenty years prior. We we're curious to hear the author's thoughts on the series now that it's come to a close and what readers can expect next. 
***
Your June release, Blackout, was nominated for a 2012 RT Readers' Choice Award for Best Science Fiction Novel, congrats! Now that your Newsflesh trilogy has ended, which book was the most fun to write?
Of the three…it's a tie between Feed and Blackout. In Feed, I was creating this world, I was putting down the pieces and showing you how everything worked, so that when I started knocking them down, you'd understand why the crumble was inevitable. I'm a big fan of narrative inevitability. In Blackout, I was breaking stuff, and everything looked like a hammer. They're very different places to be, as a writer, and I loved them both. I loved Deadline too, don't get me wrong, but middles are always the hardest to write.
We know you have some books coming out in 2013 under your Seanan McGuire name. Can you tell us a little bit about them?
I have two books coming out under my own name in 2013 — Midnight Blue-Light Special, in March, and Chimes at Midnight, in September. Midnight Blue-Light Special is the second in my InCryptid series, following Discount Armageddon, and it's going to expand that world in some fun ways. Chimes at Midnight is the seventh October Daye book — wow — and I'm really excited about it. We've finally entered Act II, as it were.
What does the future hold for Mira Grant? Will you be writing anything else under that pseudonym?
I am! I have another Newsflesh novella to come, and I'm doing a duology about genetically modified parasites. The first book is called Parasite, which is nicely on the nose, and we should be announcing a publication date for that soon. I love being Mira Grant. I'm not going to stop any time soon.
You can pick up all three books in Mira Grant's Newsflesh trilogy, available in stores now. For more genre coverage visit our Everything Science Fiction & Fantasy Page.