Three Questions For Mari Carr And Lexxie Couper
Wed, 11/21/2012 - 11:09am — admin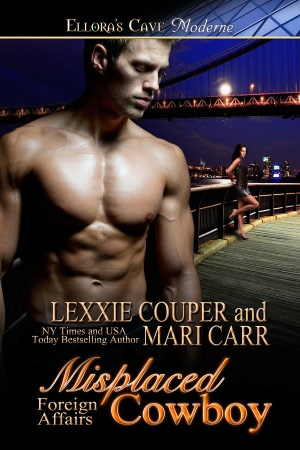 Writing duo Mari Carr and Lexxie Couper pen erotic tales of love and seduction, and the Aussie hero of latest in their Foreign Affairs series, Misplaced Cowboy, certainly heats up the pages! There's just something downright irresistible about a foreign man, and when American Annie meets Australian Dylan online, she knows a trip to the outback will be worth it. But when a mix-up results in Dylan flying to New York and Annie to Australia, Annie's best friend Monet is the one giving Dylan a warm American welcome! We asked the authors three fun questions about the story, foreign men and dating:
***

If you fell for a foreign guy, which country would he hail from?
Mari: Truth be told, Lexxie has completely talked me into Australian men! I remember very early on, when we first started writing Misplaced Princess and Cowboy, Lexxie explained Aussie men to me. She said, "The only real big thing you need to keep in mind about Australian men … they rarely compliment anyone. The more respect and love they have for a mate or brother, the more they will insult them. Australian men rarely do open displays of affection (especially ones from the land, i.e., farmers and stockmen)." I have to admit it...she totally sold me on stockmen with this detail for some reason. What can I say — I love my men alpha and gruff. Makes the compliments more meaningful when they come.
Lexxie: LOL. Of course, the down side to that means being married to one you rarely hear things like "God, you're beautiful, wife". Having said that, when you do get told, "you look awright today" you know you look more beautiful than any other woman in their eyes and your world just explodes with joy. Hmmm, what foreign guy would I fall for? It would have to be Scotland, I think. It's the accent. And the wild Scottish passion. And seriously, kilts just do all sorts of funky things to me. *sigh* 
Mari: OMG — so I read Lexxie's response and decided I wanted to change my answer to Scotland too. Isn't that where Gerard Butler hails from? Or is he Irish? Either way, he's yummy. THEN...I remembered I did fall for a foreign guy! My hubby is a Brit. Ack. I would like to humbly ask that nobody tell him my first answer wasn't England! Promise? LOL.
Assuming you were looking, would you ever consult the Internet to find a prospective partner like Annie does?
Mari: This is an interesting question. I was in college when I met my BRITISH husband and computers weren't something many people owned at all. In fact, I earned extra cash in school by typing papers because I was one of the few people who had an electric typewriter. Guess I'm showing my age there. When we were writing these stories, I remember thinking how much courage it must take to put yourself out there on the Internet in the hopes of finding love. I think I would go this route should — God forbid — I ever find myself single again. And while I didn't use the Internet to find love, I have made some amazingly wonderful friends via the World Wide Web. Miss Lexxie Couper just so happens to be one of those people!
Lexxie: I fell in love hard with someone on the net. I call her Blue and she is awesome (love ya, Mari *smooch*). On a more serious note, with the technology we have today, a net romance can be just as visual and immediate as one in the same town. If you meet someone online that makes your heart race and your soul smile then that is wonderful wonderful wonderful. And, like Mari said, if the worst happened and I was single again, the net would be the place I would go looking for my new love, especially where all the sarcastic geeks hang out. I've got a thing for sarcastic geeks ;)
Because of a mix-up, Annie's friend ends up introducing Dylan to the U.S. and the two become close, soon realizing that they have to come clean to Annie. This sounds like the perfect set-up for a ménage story. Did you ever consider including a ménage in Misplaced Cowboy? 
Mari: Actually, we didn't. We knew right from the beginning that our characters would find love where they least expected to find it. That's not to say that we didn't come up with a ménage story for this series. Misplaced Hands, the fourth and final story, is indeed a threesome tale. And it's hot. And fun.
Lexxie: Oh boy, is it a ménage ;) Imagine one shy American teacher looking for adventure, determined to step out of her protective shell, add two sexy alpha Aussie stockmen who know no inhibitions, a misunderstanding, sweeping blue Outback skies and the cool cool waters of an isolated billabong (that's like a large swimming hole for you non-Aussies out there).
As for Misplaced Cowboy…once Dylan lost his heart to Monet, there was never a chance he'd even think about another woman again. He's just that kind of man ;)
You can download a copy of Misplaced Cowboy, available from online retailers now! For more sizzling stories visit our Everything Erotica Page!