Tiffany Snow Helps Heroine Kathleen Turner Solve Her Love Triangle
Mon, 03/18/2013 - 12:12pm — admin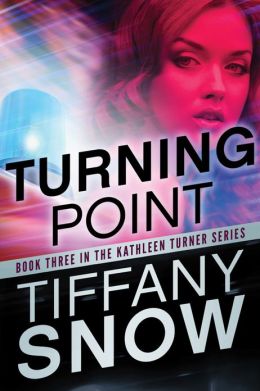 Who can resist a good love triangle, especially one wrapped in a pulse-pounding suspense? Tiffany Snow's heroine Kathleen Turner is a runner for an Indianapolis law firm who finds herself drawn to Navy SEAL and firm partner Blane Kirk, but also unable to resist ex-FBI agent Kade Dennon. In Snow's latest novel, Turning Point, Kathleen is battling feelings for both men, so we asked the author to compare Blane and Kade in a series of face-offs to determine who would be the best match for the heroine.
Kathleen Turner began this series as a runner for a highly successful law firm in Indianapolis. An unfortunate introduction to Blane Kirk — partner in the firm, Navy SEAL, rich playboy — sends her life in a new direction. Murder follows Kathleen and she's forced to turn to Blane for help. An added complication is Kade Dennon. Ex-FBI agent and cybercrime specialist, Kade now freelances in hacking…and an odd assassination (or three) on the side. He and Kathleen are forced into cooperation, which begins a complicated relationship made even more so by the fact that Kade and Blane are half-brothers.
Blane and Kade are two sides of the same coin. Blane and Kade are alpha-males with a penchant for danger, an overprotective streak, sexy as sin and both with an eye for Kathleen. As the series progresses, the stakes are higher for all of them as their lives and relationships intertwine, leaving all of them changed in marked ways.
Kathleen is torn between the two brothers in a love triangle that will have you constantly switching sides (ah, to be in her shoes). I don't know how she's going to choose, and if this were a different genre, she might not choose at all (wink, wink). But if she were to break it down Ross-style from Friends (remember Rachel's "chubby ankles"?) — compare/contrast or pros/cons — I think it might look something like this…
Career Choice:
Blane Kirk is a highly successful, highly ambitious Navy SEAL turned lawyer. He has his eye set on politics, following in the footsteps of a long line of politicians. Kade Dennon used to be on the right side of the law as an FBI agent specializing in cyber crimes. But he left that line of work to make his own rules as an assassin-for-hire who does some hacking on the side.
Winner: Kade, after all, being a politician's wife is very stressful and while an assassin may not be the best career choice, at least it wouldn't be boring. Point Kade.
Therapy Requirements: Blane had a falling out with his father when he was a teenager, turning a full 180 degrees from his father's beliefs and creating an estrangement that lasted until his father's death. Kade Dennon lost his mother at age six, sending him into a nightmare of foster care and child services that left emotional and physical scars and from which he didn't permanently escape until Blane found him.
Winner: Blane because, as any woman can confirm, mommy issues are much harder to overcome than daddy issues. Point Blane.
Other Female Entanglements: Blane's ex is Kandi Miller, daughter of a close family friend. Beautiful, rich, and pedigreed, she's been Blane's on-again-off-again girlfriend for years and the assumed-to-be-future-wife. Kade spent time in a foster home with Branna White when they were children, protecting her as best he could from abuse. Now that they're adults, they occasionally work together. While Branna is in love with Kade, Kade is oblivious.
Winner: Blane. Though Blane may have slept with Kandi, Branna could kill you and make it look like an accident. Point Blane.
Looks: No, this is not a shallow criterion to judge by. We're being brutally honest here, ladies. Blane is tall, well over six feet, with dirty blond hair, eyes that are somewhere between gray and green, and fills out his tailored suits to perfection, though he's never fully dressed until he has his Glock in its holster. Kade is slightly shorter and leaner than Blane, with black hair, piercing blue eyes, and a smirk that (as one blogger put it) screams take-a-ride-on-the-dark-side, even if he might kill you afterwards. Clad most often in black leather, Kade is less concerned about his attire than the various weapons concealed underneath.
Winner: Kade because, well, black leather. 'Nuf said. Point Kade.
Commitment Issues: Blane is known for changing girlfriends as often and as easily as other people change clothes. His list of exes is long and he couldn't match their names with their faces on a bet. Kade isn't any better, though he won't even remember their name to say goodbye on his way out the door afterwards. One night stands are his specialty.
Winner: Blane because, as Jane Austen might say, a single man headed into politics must be in want of a wife.
Where They'd Vacation: Blane would choose to go somewhere far away from prying eyes, such as a cabin in Estes Park. Snowed in with Kathleen would be his fantasy vacation. Kade appreciates the finer things in life, and he can afford them. Vegas would be his choice and showing Kathleen all Sin City has to offer would be a temptation he couldn't, and wouldn't, refuse.
Winner: Kade because as we all know, what happens in Vegas, stays in Vegas.
Tallying up our points, it seems there's a tie. Well, Kathleen must and will choose by the fifth and final book of the series. In the end, I think that perhaps what will matter more than any of these things is the one thing that can't be quantified — love.
Murder, mayhem, drama, love, betrayal, jealousy and angst. The trio of Kathleen, Blane and Kade weather all this and more as their lives unfold in the Kathleen Turner series.
No Turning Back (Book One)
Turn to Me (Book Two)
Turning Point (Book Three)
Out of Turn (Book Four) - Dec. 17, 2013
Point of No Return (Book Five) - 2014
- Tiffany Snow
You can purchase up a copy of Turning Point, available online now. And to find more great romantic suspense books, visit our Everything Romance Page!