Toni Blake Gives Us A Tour Of Destiny, Ohio
Tue, 04/30/2013 - 12:04pm — admin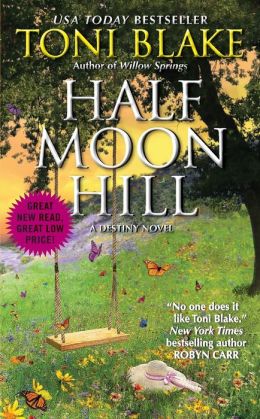 There's nothing more relaxing then sitting down with a sweet, small town romance. If you're ready for a trip to a quaint destination, we recommend visiting author Toni Blake's town Destiny, Ohio. Book six in the Destiny series, Half Moon Hill, is on shelves today which means you've got some catching up to do! But not to worry, because the author is here to share what readers can expect when they visit Destiny — including which romance novels you can find in the local bookstore!
Welcome to Destiny, Ohio, a quaint little Midwest town filled with picket fences, lakeside cottages, friendly people, and a perhaps slightly larger than average cat population — thanks to Amy Bright, owner of the local bookstore, Under the Covers, who is known for taking stray cats in at the store, then finding homes for them among her friends.
Destiny is also rife with romance, passion, and a few well-kept secrets that ultimately end up not being so well-kept. And Under the Covers is to Destiny as Central Perk was to Friends — the meeting place where friends get together to hash out their problems, share their hopes and dreams, and sometimes kiss and tell.
In addition to cat adoptions and gatherings of friends, the quaint store on Destiny's town square does actually sell books, too! And here's a sampling of what you might find on the shelves there:
A bevy of cookbooks — because folks in Destiny love to cook and bake. Between Grandma Edna's apple pie, Sue Ann Simpkins' Christmas cookies, and Anna Romo's blackberry cobbler, there's always something good to eat on hand.
A large section of classic novels, which usually end up inspiring the names of the resident kitties — a wide selection of Shakespeare, Jane Austen, the Bronte sisters, Charles Dickens, and more can be found.
And resident matchmaker Amy would never own a bookstore that didn't boast a healthy romance section — historicals by Julie Anne Long, Eloisa James, Julia Quinn, and Teresa Medeiros, and contemporaries by Robyn Carr, Carly Phillips, Lori Foster, JoAnn Ross, Susan Wiggs, and Lori Wilde and … you might also find a few books by Toni Blake as well, like her newest, Half Moon Hill, Destiny Book 6, which comes out today!
- Toni Blake
You can pick up a copy of Half Moon Hill, available in stores now. And for more small town romance visit our Everything Romance Page.