The Top Five Things Margo Maguire's Hero And Heroine Need To Do To Get Their HEA
Wed, 08/07/2013 - 12:41pm — admin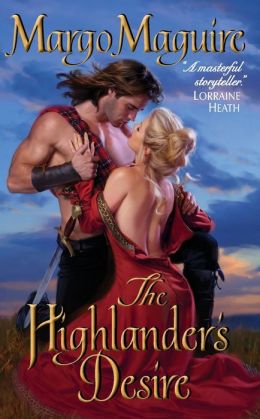 The course of true love never does run smooth, and this is most definitely the case in Margo Maguire's latest Scottish romance, The Highlander's Desire. Her hero and heroine must surmount political treachery, evil stepsisters and more before reaching their HEA. Warrior Lachann MacMillan, faced with guarding his clan, believes a political marriage will help his people achieve peace. Meanwhile, Anna MacIver is struggling to cope with her abusive stepsister, whose arranged bridegroom just happens to be Lachann. Obstacles abound for the would-be lovers, and Maguire is here to share the top five obstacles Lachann and Anna must surmount before they can find happiness together.

***
The Top Five Things Anna MacIver Must Do to Protect her Heart
5. Do all she can to keep her closest friend, Kyla, safe.
Kyla's husband is an abusive drunkard who beats her. Anna could not bear it if he managed to kill Ky and her infant son through his brutality.
4. Figure a way to leave the Isle of Kilgorra.
Her life on the isle has been a misery since her mother died and her stepfather became a drunkard. Now she serves in the household as an inconsequential maid, doing the bidding of her imperious stepsister, Catrìona.
3. Take lessons on defending herself and Kyla from Ky's abusive husband.
Lachann is a master warrior, but his lesson on defense leads to something much more dangerous — an attraction that cannot be.
2. Stay away from Lachann MacMillan.
Though he is kind and gentle, he's a powerful warrior whose intention is to wed Catrìona. The temptations that lie between them can only lead to trouble. They both know it and need to avoid it.
1. Leave Kilgorra with her mother's people.
When her maternal uncle arrives on Kilgorra to claim her, she should leave, taking Kyla with her. It would be the smartest thing to do, and yet ... If she goes, she will never see Lachann again.
The Top Five Things Lachann MacMillan Must Do to Protect his Clan
5. Marry Catrìona MacDuffie, the unpleasant daughter of Kilgorra's laird.
Through marriage to Catrìona, Lachann will become laird of the Isle of Kilgorra and have the power and authority to protect the MacMillan clan from pirates and other raiders. Her personality is irrelevant.
4. Ignore his old arch-rival, Cullen Macauley
The man might have stolen Lachann's first love, but Cullen is not going to take control of Kilgorra by winning Catrìona. Lachann will be the one to wed the lass, even though she holds no appeal for him.
3. Create a fighting force on Kilgorra.
Once Lachann arms and trains the island men to defend Kilgorra, no raider will be able to get past the isle and into the lochs where MacMillan lands are located. The treasure he and his brother discovered two years ago will be protected.
2. Rein in his growing feelings for Anna MacIver, Catrìona's housemaid.
Though her spirit and beauty are far too tempting, Lachann cannot afford any distractions from his purpose. Catrìona is the woman he must marry, so he must put Anna from his mind.
Or, wait …
1. Find a way to marry Anna.
There is only one woman for Lachann, and it is not Catrìona. Somehow, Lachann must figure out how to keep the isle under his control as he marries the one he loves.
Wanna know how Anna and Lachann make it work? You can pick up a copy of The Highlander's Desire, available now! For more historical love stories visit our Everything Romance Page.