Trend Watch: Childhood Sweethearts Featuring Kieran Kramer's The Earl Is Mine
Thu, 03/14/2013 - 1:10pm — admin
There is nothing more touching than a tale of childhood sweethearts whose love is sustained into adulthood. Recently, there have been an increase in heroes and heroines who have grown up together, but oftentimes these roads to happily ever after are long and littered with pitfalls — not that this stops lovers reconnecting. An especially fun read that reunites childhood friends is Kieran Kramer's The Earl is Mine. Today the author stops by the RT Daily Blog to explain the challenges that her characters face, and why the trials and tribulations Gregory and Pippa experience are worth the reward. Then at the end of the post, we suggest some other great reads that reunites long lost friends.
***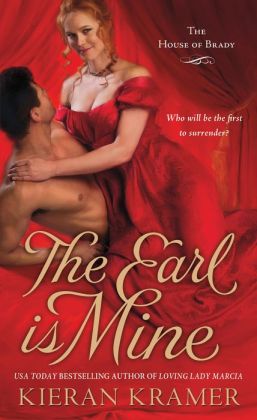 In The Earl is Mine, Gregory and Pippa have known each other since childhood, yes. They got along beautifully. He was older by about five years, but they would spend a lot of time together outside, climbing trees, staging imaginary battles with the children of the nearby village, and exploring the countryside of Dartmoor. Pippa called him the captain, and he called her his lieutenant.
But at age 13, Gregory learned a dark secret that changed him. Now when he visited Pippa, he ignored her. Of course, part of that separation was the mere fact that he was growing up. But Gregory was a loyal — if he hadn't learned this secret, he would have remained a good big brother figure to Pippa. But because of this secret, he isolated himself, especially from her, because she was meddlesome, in his view. She knew him too well. She knew something was wrong. He had a difficult time hiding his true feelings of sadness and guilt from her, and it was because Pippa, although they didn't see each other often, seemed to know him better than anyone else. She saw to the essence of Gregory, and he didn't like it. Why? Because he felt that at his core, he was not worthy of her affection — of anyone's affection, all because of the secret.
But this beautiful halcyon past they shared as children was something Pippa never forgot, despite the fact that Gregory basically cut off their friendship. So later, when they're thrown together as adults, she holds that loving childhood relationship in her heart. It gets her through the awkward times she has to see him. And Gregory is the same way. He doesn't want Pippa's interference in his adult life, but he realizes that the only time he's happy — truly happy — is when he's with her. When a romance ignites between them, that childhood friendship is the tenuous link that helps them find their way to trusting each other again as adults, although more work will have to be done and great obstacles overcome before they can truly claim each other as soul mates and lifelong partners.
- Kieran Kramer
***
More historical romance novels that reunite childhood sweethearts:
Did we miss your favorite reunion romance? Let us know in the comments below. And for more great reads, check out RT's Everything Romance Page.