Trend Watch: Mild Romance Is Hot, Hot, Hot!
Thu, 03/24/2011 - 4:17pm — admin
One of our favorite things about reading romance is the wide range of stories that fall under the genre. And that's certainly the case when it comes to the spice, sizzle and steam factor of these stories. These days many authors are writing tales that are hot, hot, hot — the erotic romance sub-genre has exploded and even contemporary romances are skewing towards the fuego. But where does a romance reader go for a story that sweet not scorching? Today we chat about books that don't skimp on the romance, but prove that sometimes less is more when it comes to the bedroom scenes.
Physical intimacy is an important part of a romantic relationship, but it's not always something that needs to be seen on the page. This month Hester Browne's novel, Swept off her Feet has RT's B. Nakia Garner saying, "It is refreshing to see a book focus more on the idea of romance as opposed to actual romantic overtures." Not having explicit sexual scenes on the page can give authors a chance to focus more on the development of the relationship a la the romance classics, Austen and Bronte.
We are keeping an eye on a new trend developing in contemporary romance, several recent releases are turning heads without being extremely graphic when it comes to the hero and heroine's intimate encounters. From Jodi Thomas to Sherryl Woods, authors are bringing passion to the page without ever taking readers into the bedroom. We wanted to know what prompted this "less is more" movement, so we went to one of the authors at the forefront of this trend to see what she had to say... So we went to Hester Browne to find out why she decided to keep Swept off her Feet rated PG.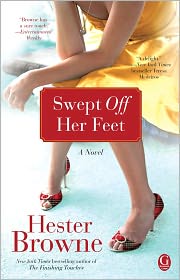 In your opinion, how important is a physical relationship between the hero and heroine in a romance?
I think it depends very much on the story, and the way the relationship is unfolding between the characters. Personally, I love to watch a hero and heroine match wits as they struggle with their feelings — I find that sort of quick, witty connection, punctuated with a tension-filled touch here and there, sexier than a torrid bedroom scene.
Were you at all intimidated by how your story would be received by readers since most of the chemistry between your characters takes place on the dance floor in front of an audience?
The dancing in the book is a metaphor for the criss-crossing relationships between the various characters. The reel is all about flirting, changing partners, moving around the room in patterns. It seems quite formal until the music starts, then the warmth of different hands and the speed of the turning sends pulses racing, which was how I wanted the attraction between Evie and Robert to feel. Outside the ballroom she can reason herself out of her growing feelings, but on the dance floor, she's powerless to resist. I think, by the end, there could have been three thousand people on the dance floor with them, but they'd have only seen one other person in the room.
***
If you are excited to read some other books in this trend, check out these recent releases:
So we want to know, do you prefer the sweet to the sensual, or like a little bit of both? And whose books do you turn to when you want something that still leaves a little bit to the imagination?