Unabashed Royal Watching: Caridad Pineiro on her Favorite Princesses
Mon, 08/26/2013 - 10:49am — admin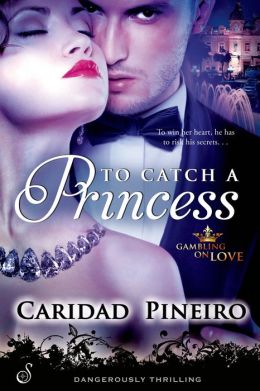 Are you a royal watcher? We were glued to the screen during Will and Kate's wedding, and the whole RT office was on red alert as we awaited baby George's arrival. (We won't comment on the abundance of cooing when lil George made his international debut.) Caridad Piñeiro, author of this month's To Catch a Princess, shares our fascination, and today she's with us to tell us all about her favorite princesses. 
There are those who say that we're no longer the colonies, that we should get over our fascination with the Royals. That it's crazy to be so fascinated with a group of people who possess power just because of who their ancestors were. To them I say:
Dare to imagine. Seriously.
Imagine what it's like to live such a fantasy life. To be born into a world of great wealth, but also great responsibility. Imagine what it's like to be both loved and hated for just being what you are and not who you are.
I dare to imagine, which I guess is the reason why I created the Ivanov family from The Prince's Gamble and this month's To Catch a Princess. I wanted to imagine for you what it would be like to have incredible wealth and the kind of life you might lead if you could do anything that you wanted.
For the Ivanov children, Prince Alexander and Princess Tatiana, that meant striking out on their own to create a gambling empire and live their lives in America, far from the aggressive paparazzi that stalk the Royals in Europe. But being independent also brings grief from their parents to hold onto some of the old ways, like an arranged marriage for Tatiana, something that the very independent and modern princess finds hard to swallow.
I imagined what life would be like for Tatiana, or for any of the modern princesses that have fascinated me over the years. So today, I'm sharing some of those princesses with you!
Grand Duchess Anastasia: Did she or didn't she survive the massacre of her family? This doomed young princess's story has inspired countless books and movies, including my favorite, Anastasia, the animated version with John Cusack and Meg Ryan.
Grace, Princess of Monaco: Somehow appropriate, since To Catch a Princess is set in Monaco. How can you not get caught up in the tale of the gorgeous star, swept away from Hollywood by a European prince?
Princess Diana: No list of modern princesses is complete without this icon. A school teacher with royal lineage who snares the interest of the man who would be king. How many of us didn't want a happier ending for this tale? All of us! We're romantics!
Photo Credit: Disney Used under Fair Use Provisions for commentary and public discussion
Princess Mulan: Yes, I had to do it. I had to go Disney. Which mom with a daughter hasn't gone through every Disney princess phase? Sleeping Beauty. Cinderella. Ariel. Belle (who came in a close second). Jasmine. But I had to go with the butt-kicking young woman who would risk all to save her country and get the hot soldier along the way.
Photo Credit: Carfax2 and Surtsicna @ en.wikipedia.com 
Catherine, Duchess of Cambridge: How can you not get caught up in this fairy tale? My daughter and I followed each step on the way to the wedding. We even recorded it and planned a high tea to enjoy while we watched. It was a special moment for me, since I remembered getting up with my mom at an ungodly hour to watch Diana and Charles marry. It was nice to relive that moment with my best friend, my daughter. Here we are during our wacky wedding high tea!
Are you a royal watcher? If so, be sure to check out Caridad Piñeiro's latest royal title, To Catch a Princess, available online now. And for more on all your favorite romance novels, visit our Everything Romance page.