Unmatchmaking in Nicola Cornick's Notorious
Fri, 07/22/2011 - 2:00pm — admin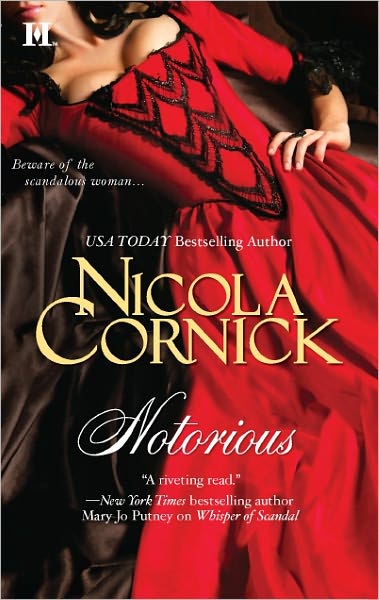 Author Nicola Cornick introduces readers to a very unusual heroine in this month's Notorious. Most Regency misses are hoping to find their perfect match, but Susanna Burney has made a reputation for her self as an un-matchmaker. Today the author stops by to chat about her heroine and reveals which famous historical couples Susanna would like to break up!
Susanna, the heroine of my August Regency historical, Notorious, has a very unusual profession. She is a match breaker rather than a matchmaker! She is paid by wealthy parents to break up unsuitable couples, to save an heiress from a fortune hunter perhaps, or to distract an impressionable young man from marrying an adventuress.
Susanna is beautiful, clever, witty and charismatic. She uses all her wiles to entrap susceptible men. She finds out all about them, their interests, their weaknesses and indulgences. But how would she fare when faced with some of the most famous romances in history? I decided to pit Susanna's match-breaking skills against three historical couples and see what I thought might be the outcome.
Helen and Paris
Helen, Queen of Sparta and wife to Menelaus was known as "the face that launched a thousand ships" since it was her elopement with Prince Paris of Troy that led to the Trojan War. If Susanna had managed to split these two up before they had run off with one another only imagine how much bloodshed would have been spared.
How would Susanna go about separating Helen and Paris? Helen was a famous beauty, far more beautiful than any other mortal woman, according to some of the chroniclers so Susanna probably can't compete on that basis. But Helen was the daughter of the God Zeus so I'm thinking she was probably a bit spoiled and high-maintenance. Susanna's best tactic therefore, is to be everything that Helen is not. All she has to do is show that she is very pleasant, easy and relaxing company. Paris will soon tire of Helen's demands and turn to Susanna for a rest!
Henry VIII and Anne Boylen
I'm a bit conflicted about this one as Anne Boleyn is a heroine of mine but there is no denying that she caused a deal of trouble; Henry divorced his first wife for her, declared his daughter Mary illegitimate and broke with the church of Rome just so that he could marry Anne. Besides, if Susanna had been successful in separating Anne and Henry before the knot was tied, Anne would have kept her head. On the downside, there would have been no Queen Elizabeth I, which would have been a great loss.
The challenge of this couple, of course, is that Anne Boleyn is the ultimate match breaker herself. She is clever, witty and charismatic. She keeps Henry on a string, entrancing him at every turn. She knows all a match breaker's tricks so how can Susanna outwit her? Susanna's only chance, in my opinion, lies in Henry's susceptibility to flattery. Henry loves being fawned over by a beautiful, witty woman so Susanna could try writing witty poetry in his honor.  But I think this might be one game that Susanna would lose!
The Prince Regent and Princess Caroline of Brunswick
How different things might have been if Prince George, Prince of Wales, and Caroline of Brunswick had never got so far as to tie the knot! George might have had a long and happy marriage to a different woman and produced plenty of heirs to the English throne! George and Caroline could not stand each other and allegedly only slept together once, on their wedding night, when Princess Charlotte was conceived. George considered Caroline ungainly, ill mannered and short on personal hygiene. He wasn't much better himself, being spoiled and often drunk. This one is easy for Susanna – wash, be charming, and bring a bottle of brandy!
- Nicola Cornick
Want to see more of Susanna's unmatchmaking skills? Pick up your own copy of Notorious in stores today! And for other great romance reads, check out our Everything Romance Page!