Vicky Dreiling's Bloopers From What A Reckless Rogue Needs
Thu, 03/27/2014 - 11:52am — admin
Getting a book ready to publish is a team effort — just ask the editors! Today author Vicky Dreiling shares a peek at the book's bloopers, errors her editor caught in the first draft of her latest historical romance What A Reckless Rogue Needs. Thankfully Forever romance editor Michele Bidelspach was able to offer the author constructive — as well as amusing — feedback.

I'm really excited about What A Reckless Rogue Needs, Book two in my Sinful Scoundrels series. In book one, What A Wicked Earl Wants, I confessed that I occasionally make some rather interesting errors. Fortunately, my editor Michele Bidelspach has a great eye for spotting some of my accidental bloopers with stage direction. I like to think this is because I'm so riveted by the story that I'm carried away by my own prose. This is particularly true while I'm writing sensual scenes. I can see it all in my head. The perfect setting with candles, a cheery fire, and of course—a bed!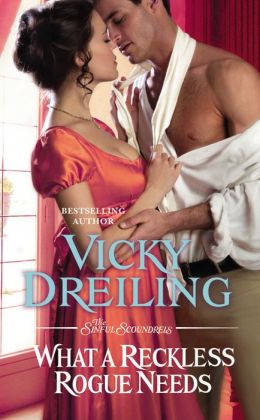 Getting the couple into that soft bed, however, sometimes has rather interesting results. Having reviewed Michele's comments on my stage directions, I apparently have made little progress since the previous disastrous bloopers in What A Wicked Earl Wants. One might even say they are, gulp, worse! Never fear, Michele provided plenty of comments once again. Below are some first draft bloopers in italics from What A Reckless Rogue Needs. You may find my über talented editor's comments more than a little entertaining. 
***
"Good Lord. Stand up and I'll hold your waist while you pull up the skirt."
Comment from Michele:  He's planning to do the horizontal mambo while the carriage is bumping along? 
"Naturally he imagined his hands on his derriere and his groin tightened."
Comment from Michele:  Congratulations, Vicky. This is a whole new take on self-gratification.
He watched her flat little bottom and said, "My appetite is definitely whetted."
Comment from Michele: Did he fail geometry?
"Ahoy, my pretty one. Would you like to whip the plank with me?"
Comment from Michele: Is this your idea of historical erotica?
"A slow smile tugged at his mouth. It was a knee-weakening, toe-curling rake's smile meant to disown a lady."
Comment from Michele: Words fail me.
"Once inside the lady's bedchamber, she pushed him off the edge of the mattress."
Comment from Michele: What next? Flogging?
"I have high hopes you will fall to the occasion."
Comment from Michele: Poor guy. He can't catch a break.
"He raised his head and dipped his tongue between the hollow of her breasts."
Comment from Michele: "Wow. He has a long tongue."
"I've had more than a taste of you, and it will be enough."
Comment from Michele: He's bored already?
"He caressed her intimately until her legs felt like gel."
Comment from Michele: Really, they used hair gel in Regency England?
Cheers!
 - Vicky Dreiling
You can pick up a (blooper-free) copy of What A Reckless Rogue Needs, available digitally and in print now. For more historical love stories visit our Everything Romance page.