Victoria Roberts On Feuding In The Highlands
Mon, 02/18/2013 - 1:57pm — admin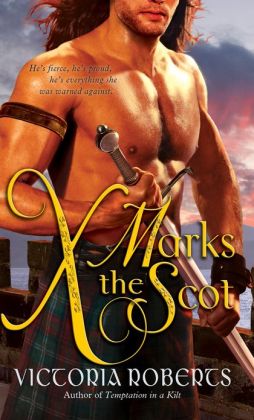 Author Victoria Roberts' skill at weaving tension, betrayal and outright warfare into her romance writing earned her book Temptation in a Kilt a nomination for the RT Reviewers' Choice Award for First Historical Romance. And the author is wowing us again with her second Scottish tale, this month's X Marks the Scot. Rakish Declain MacGregor has no intention of getting married — especially to his enemy's sister. But when Declain is forced to escort Liadain Campbell to court, the long journey gives these two plenty of time to fall in love. These star-crossed lovers are looking for something permanent, but the generations old feud between their families could have this couple breaking up if the Campbells and MacGregors can't find a way to make up.
We had such a great time reading about the trials and tribulations of these clans that that we asked the author to share her favorite real-life feud. And she delivered by telling us the harrowing story of one of Scotland's most feared men. We hope you are ready to meet the big, bad Wolf.
Alexander Stewart (1343-1394), Alisdair Mor mac an Righ, the Wolf of Badenoch, was the son of King Robert II and was known as one of the most evil men in Scottish history. Although the times themselves were barbaric, the man stood out and was feared by many.
Alexander was the first Earl of Buchan from 1382 until his death. He held lands and titles of large territories in northern Scotland before he eventually lost the majority of his holdings. He ruled the lands of Badenoch with a cruel hand, burning the homes of those who crossed his path or displeased him. 
Always on the hunt for more, Alexander extended his territories in 1371 by leasing Urquhart lands from his younger half-brother. Alexander then obtained possession of the Barony of Strathavon, which bordered his own Badenoch lands. The determined man eventually found his mate and married Eupheme, Countess of Ross, who also conveniently held the lands of Lewis, Skye, Dingwall, and part of Aberdeenshire. He moved in swiftly and was granted the title Earl of Buchan only days after his marriage.
The Wolf blamed his wife for the fact that they had no children, while he fathered around forty illegitimate children from different women. When Alexander sought intervention from the Bishop of Moray to dissolve his marriage, to his surprise, the Bishop sided with Eupheme and then excommunicated Alexander.  
It was Alexander's response to his excommunication that branded him as the Wolf of Bachenoch. Having a heavy army of Highland clansman to protect and help him with his machinations, he torched Forres and Elgin—Elgin being the cathedral of the Bishop of Moray. He terrified the villagers and forced them to flee the countryside. To his dismay, his assault turned out to be unsuccessful since he lost his Lordship of Urquhart and his claim on Ross following his wife's divorce in 1392. 
It doesn't hurt to have family in high places. Alexander's older brother, Robert III, called upon him to do penance for his crimes, but then he was eventually forgiven and absolved of all wrong-doing. Alexander died in 1394, buried at Dunkeld Cathedral. His tomb, topped with an effigy in armor, is one of the few Scottish historical monuments that survived during that time. The details surrounding his death are unclear. Legend has it that Alexander played chess with the devil. 
And what did the Wolf of Badenoch's legacy leave behind? Spreading violence and turmoil throughout the north western part of Scotland, his three sons were captured and imprisoned in Stirling Castle from 1396-1402. 
There is always a price to pay for being the Big, Bad Wolf. 
- Victoria Roberts
Looking for a romantic story set in a dangerous time? Then you will definitely want to pick up Victoria Roberts' newest release X Marks the Scot, out now. And for more action set in the Highlands, visit our Everything Romance Page.