BY Morgan Doremus, OCTOBER 08, 2010 | PERMALINK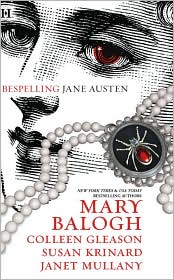 There have been many Jane Austen adaptations over the years - traditional retellings, contemporary spins (including my favorite, Clueless) and even the inclusion of a monster or two. This month readers can enjoy a whole new take on Jane Austen's beloved stories when four historical romance authors use Ms. Austen's characters as inspiration for their new paranormal anthology Bespelling Jane Austen. So how does one go about picking an Austen story to adapt? Find out here.
Susan Krinard writes "Blood & Prejudice"
Pride & Prejudice is my favorite Austen story. I like it most because Darcy is the kind of hero I really enjoy: standoffish, apparently arrogant, but also deeply compassionate underneath. He's a strong man who is also responsible, and it doesn't hurt that he's tall, dark and handsome! Lizzy, too, is my favorite kind of heroine: "spunky," acerbic, and a match for any man. How could I not love this story? (Plus, Darcy makes a fantastic vampire!)
0

COMMENTS
SUBSCRIBE TO RSS FEED
EMAIL
SHARE
PERMALINK
READ ENTIRE POST