Virginia Kantra On Teens, Moms, And Unexpected Abilities - With Giveaway!
Tue, 09/07/2010 - 12:06pm — admin
In the latest Children of the Sea novel, Immortal Sea, paranormal author Virginia Kantra's heroine, Elizabeth Rodriguez, is raising two teenagers and her son, Zack has some unique abilities. He is half fin folk! Now Kanta shares an inside look at Zack's life and what it is like for this sixteen year old to struggle with girls, pimples, learning to drive and his newly discovered paranormal heritage... And don't miss the GIVEAWAY at the end of the post.
Dr. Elizabeth Rodriguez has a problem.
Her son Zachary has a secret.
And only the father Zack never met can answer the questions he's got now.
The only thing tougher than being the parent of a teenager is to be a teenager.
Yeah, being a mom is rough. If you've ever had to negotiate that hard, fine line between discipline and disobedience, to balance the desire to hold on with the need to let go, you know that. When our children grow away from us, they take a piece of our hearts and identities with them. I know. I've been there.
But being a teen...That's even harder. For one thing, you don't have an adult's perspective. Life as you know it—your life as a kid—is over, but your new life as an adult has barely begun. You're not in control of your body, your circumstances, or your hormones. And then there are the firsts to deal with: first pimples, first dates, first driver's license. Teens are torn between entitlement and insecurity, between freedom and dependence. I've been there, too, as a teenager and as the mother of teenagers.
Dr. Elizabeth Rodriguez moves to the island of World's End, Maine, hoping to find a supportive community for her small family after the death of her husband, three years before. Her son Zack has all the problems of a typical fifteen year old. With one important difference: Zack isn't human.
When Liz first met Zack's father Morgan, she was on vacation, fresh out of college and eager for adventure. Sexy, black-clad Morgan is finfolk, one of the shape-shifting children of the sea, a warden of the northern deeps responsible for protecting the oceans. But Liz had no idea of his true identity or that their wild, one-night hook-up would result in a child. A son who takes after his father...
When Liz and Morgan reunite years later, their passion flares as hot as ever. But more is at stake now than their emotions. Their son's future is on the line.
Zack has been struggling in secret with a heritage he never guessed at. You want to talk about out of control hormones?
"The grief counselor said he was okay. 'As well as can be expected.' " Liz bit her lip, the small pain a distraction from the ache at her heart.. "But about six months after Ben died, Zack changed. His hair color, his hygiene, his clothes."
Those damn boots, she thought. He never went barefoot anymore. Even in the house, even in the summer, he wore socks.
Morgan nodded. "The Change comes on at adolescence. He would try to control it. Failing that, to hide."
Liz swallowed painfully. "He started spending all his time in his room. I
thought—he's a teenager. But then his grades dropped. He didn't want to see his friends."
"He could not confide in them."

"He could have come to me." The hurt burst out of her. "I'm his mother. I've always told him he could come to me about anything."
"He would not have the words to tell you what was happening. To explain. How could he? He did not know himself."
Her heart broke for him. Her poor boy. Emotion clogged her throat. "I never suspected . . ." Wasn't that what parents always claimed while their
children suffered teasing, addiction, abuse? "I didn't know." "I never dreamed." "He never said anything." Useless now to look back and wish and wonder. "I thought he was doing drugs."
"You must not blame yourself."
She shook her head. Morgan didn't understand. "I knew something was wrong. I should have found a way to fix it."
"He does not need to be fixed. He is not your patient."
"No, he's my son." She pressed her fingers to the headache pounding in her temples. "I could have handled drugs," she muttered.
How did she handle this?
A lot of my experience as a mom—and a lot of our family conflicts and conversations—made it into this book. No, none of my kids has ever had to worry about taking a shower for fear of what might happen if he gets wet. (That I know of, anyway.) But heart of the story, the love and the worry, the ways we need each other and the ways we grow, is all true.
I hope you enjoy this special coming of age story as well as Liz and Morgan's romance.
And tell me...What's the hardest part of being a teen (or the parent of a teen) for you? What was one of your memorable firsts?
- Virginia Kantra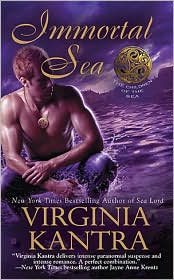 Giveaway Alert: Three lucky winners will receive copies of Virginia Kantra's Immortal Sea. To enter, leave a comment on this blog post about why you love paranormals or e-mail here with your comment, mailing address, and the subject line "Virginia Kantra's Immortal Sea Giveaway." One entry per person, please. The contest winners will be revealed on September 15th.