Vivian Arend, Lauren Dane and Kit Rocha Get Marked
Mon, 02/10/2014 - 2:55pm — admin
 It didn't take very long, nor was it difficult, for authors Vivian Arend, Lauren Dane and Kit Rocha to settle on Marked for the title of their new self-published anthology. Because as readers will soon discover, each of the three stories feature tattooed and pierced characters. Today the authors are here to share why tattoos hold meaning for their characters, plus their favorite ink-related lines from their respective Marked stories.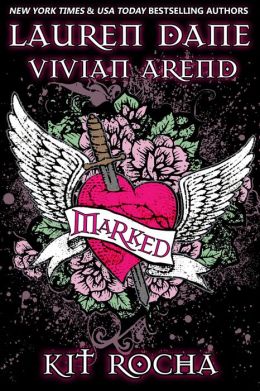 I absolutely love tattoos. I love that they've been a mode of expression, a badge of identity, a way to stand out, a way to fit in for thousands of years. Across cultures and time, gender, age, status, marking yourself can have great significance.
In "All That Remains," each character has ink (and one has a brand) that means something to them. Triumphs and disappointments written on the body in a way that celebrates who they are as people. 
"There were thorns here and there, inked as if they'd pricked her flesh, drops of blood glistened on the tips. And yet it was beautiful. There was an intimacy to the work that stole his breath." 
- Lauren Dane
***
When he's asked about his tattoos, and if they mean a certain thing, the hero of "Rocky Ride" discovers he's got a completely different view of what he's placed on his skin.
And maybe that's another beauty of a tattoo—it's so personal. What someone sees as a cage can actually be a reminder of the utter freedom the person who wears it feels.
"Mitch toed off his boots, grabbed the back of his shirt and whipped it over his head. Anna watched eagerly as he stripped, hard muscles and ink coming back into view. She loved the curving line along his hips, the chains shifting on his torso. Loved the way his biceps flexed as he moved, making the flames come alive."
-Vivian Arend

***
The Beyond series really started with tattoos. There were a lot of other ideas that came together to bring us to the final books, but the tattoos were the beginning.  In Beyond Pain, the outsider heroine noticed that the O'Kanes said everything that mattered to them with ink, and it's true! 
And one of the most important tattoos in the series are the marks a woman takes when she's chosen her man—something far more permanent than a collar. For an O'Kane, marks don't mean Happily Ever After—in a dangerous, post-apocalyptic world, that's a promise no one can make—but You & Me Until the End.
With tattoos being so important to the series, getting to write the story of the gang's tattoo artist was a special treat.
"Tattoos curled around her wrists, cuffs that stretched from the tops of her hands halfway to her elbows, a sight only slightly less infamous than the bar. Members of Dallas's gang wore those cuffs, inescapable proof that she really had joined up with the O'Kanes."
Itching for more ink? You can download a copy of Marked, available digitally (and on Amazon, also in print) now! For more steamy reads visit our Everything Erotica page.