Vivian Arend's High Risk Hero And Heroine Share Tips For An Adrenaline Rush
Tue, 03/12/2013 - 1:10pm — admin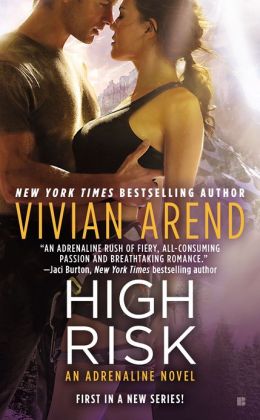 Today we welcome Vivian Arend to the RT Daily Blog to tell us more about her Adrenaline series which starts this month with High Risk. Becki and Marcus are fearless thrill seekers who specialize in high-risk rescue missions in Banff, Alberta and beyond. Today the author will see if you would be able to take on the challenges her characters face. Vivian, take it away!
The Adrenaline series is about a search and rescue team and the people who find playing in the mountains even more exciting when there are things like cliffs and ropes and danger involved. The first book in the series released last Tuesday, so in celebration I present…
Seven ways to get an adrenaline junkie's heart pounding by Becki and Marcus, heroine and hero of High Risk.
***

1. Go climb something.
Well, you knew this one had to be on the list. There are plenty of mountains in Banff National Park for them to explore, but they could also travel to the Netherlands and take on the Excalibur. At 121 feet tall (37 metres) climbing to the top would be a bit of a rush.
2. Find a lovely place for a meal. Make sure it's got something that's appropriate to share for dessert.
Not only is there a paradise right outside the Banff town site, there are tons places within the town boundaries with Eden-like meals to tempt any climber's taste buds. The Grizzly House is one fine example: their claim to fame is fondues. You could try the "Hunter Fondue dinner" with buffalo, wild boar and venison. Or really go wild with the "Exotic" version: shark, rattlesnake, ostrich, frog legs, buffalo and venison.
Good thing the final course isn't difficult to decide. Their chocolate fondue is made from melted Toblerone.
3. Go for a fast ride. Forget the car or truck, try a raft.
Whitewater rafting. Where you start out dry but definitely don't finish that way. It's a great activity on those scorching hot days when the sun bakes you on the slower sections of the river and people take turns spraying each other with water pistols or jumping overboard. But when it's time for the big waves? Hold on tight. Nearly flipping the raft promises a few heart palpitations.
4. Break out the good ropes. And this time, we're not talking about climbing with them.
Marcus: "Tell me honestly. Was that too soon to break out the ropes?"
She couldn't stop her smile. "We're climbers. I'm surprised we didn't start with the ropes."
(See chapter 21 for specific details…)
5. Follow up to any workout: a soak in the world famous Banff Hot Springs.
There are the upper pools where you can soak in the natural mineral water, and the lower cave and basin pools which is now more of a museum to showcase how Banff found it's way onto the map. The explorers who came through the mountain passes years ago appreciated a good soak after a strenuous day of excitement as much as current day adventurers. (Not as exciting, but very cool are the tiny snails that live in one side basin of the lower pools. Very, very, very rare…)
6. Tour of the backrooms of a fancy hotel.
Okay, most people find the main sections of the Fairmount Banff Springs Hotel plenty exciting. There are shops and banquet rooms, High Tea served daily and rooms a plenty, all nestled under the towering face of Mount Rundle. But if we're talking about Becki and Marcus, they'd look for something a touch more dangerous. After all, Becki didn't hesitate when she was dared to climb the outside of the place when she was slightly younger. Would have made it too…if Marcus hadn't caught her.
7. Find a quiet place to get away from it all. Don't forget the candles…
Darkness filled the space. She might have been blindfolded again for how little she could see. Marcus didn't seem to have any troubles guiding her to the end of the bed and pushing her back until she sat.
"Stay here," he ordered.
This room wasn't as warm as the living area, the heat from the fire lingering in the outside room and leaving a chill in the air. A match snapped, the instant flash of light bouncing off the cabin wall where Marcus brought the stick to the candlewick. The faint scent of sulfur carried back to her as Becki waited, curling up on the soft quilt covering the mattress.
Two candles—three. Once he had a light source on every wall, he turned back to face her and her heart skipped.
 ***
And…we'll just pull the curtain shut and let them have some privacy. Sufficient to say there are a lot of fresh and exciting ways to entertain yourself no matter what time of year, or what kind of activities you usually do for fun.
Stepping into a new experience, or trying a new series or genre—the options to get your heart racing are endless. And that's the great part of a book. The excitement is all there waiting.
- Vivian Arend
You can pick up a copy of High Risk, available in stores now. For more Romantic Suspense tales, visit our Everything Romance Page.