Vonna Harper Discusses The Canine Companions In Canyon Shadows - With Excerpt!
Wed, 06/27/2012 - 11:08am — admin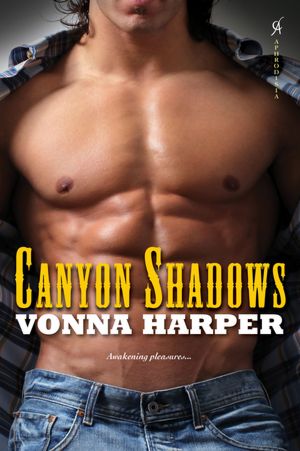 Vonna Harper's latest, Canyon Shadows, is a steamy, suspense-filled tale that will change the way you look at a construction site (and maybe even leave you wanting your own hunky contractor). When builder Maco looks for dogs to protect his construction site, he contacts Shari, who runs a dog boarding and training business. It doesn't take long for the two to fall into a sizzling romance. At the same time romance blossoms, the H & h also attempt to uncover the mystery behind a string of local shootings. Dogs play a central role in the book, not just with Shari's business, but with how close she is with her canine companions. Today, the author delights us with the story (and photo!) behind her inspiration for Shari's dog, Ona. And be sure to check out the exclusive excerpt at the end of this post!
I loved writing about Ona and the other dogs that complicate and enrich Shari's world and protect sexy Maco Durant's dam construction site in my Kensington Aphrodisia title, Canyon Shadows. Several times I place Ona and Shari's guard dogs in danger and a couple of Dobermans risk their lives protecting Maco. Dogs factor prominently in getting these two independent people together. They may have a lot on their respective tables (plus a hefty dose of danger) but manage to find time for—you know.
Why the focus on dogs? Simple. I've been owned by dogs almost all my life and currently share my home with two rescues, one a Dogs For The Deaf dropout. They insist on daily 40 minute walks, no easy accomplishment during rainy Oregon winters. And yes, the neighbors think I'm crazy.
As witness by the pictures of Bruce, my 75 pound humane society mutt, he isn't known for his "defend the turf" skills. He loves everyone, especially men with pickups he can climb into. He isn't crazy about the neighbor's cat and the feeling's mutual. Both dogs have lost interest in the local wild turkeys, but let a cow moo and Bruce bounces.
Bruce relaxing on the couch
In order to sound as if I knew what I was talking about when I described Shari's career, I turned to a good friend who is a long time Search and Rescue volunteer. Karen trains Dobermans for everything from tracking to cadaver identification. (They helped search for the Kim family—parents and two small girls—who got stuck in snow trying to drive to the Oregon coast several winters ago. The mother and girls survived.) Karen's beautiful animals also do duty as couch potatoes and official greeters. There's nothing like being mauled by 90 pounds of Doberman looking for steak in my pockets.
To the dogs that have and currently enrich my world, thank you for your contribution to Canyon Shadows.
- Vonna Harper
***
An excerpt from Canyon Shadows: 
Stopping, Shari Afton looked around at what she could see of her acreage. Although she'd given every bit of physical and mental energy she possessed to Working Dogs over the past year, she still didn't quite comprehend that it was hers.  
"You take it for granted, don't you?" she asked the middle-aged mutt ambling beside her. "And when am I going to let you sleep on my bed?" Might as well, since no man's sharing it with me.
Shari patted Ona's broad head. Ona was a big, short-haired mix of black and rust. Most of her face was dark, but a brown patch surrounded her left eye, making her resemble a pirate.
Hmm. A pirate? In fantasy a swashbuckler for a sex partner sounded fabulous. Reality was another story. Undoubtedly showers weren't a priority with them. 
"Look," Shari continued, "I understand. If I'd put up with as many foster pups as you have, I'd figure I'd earned the royal treatment, too. I just need to know what percentage of the electric bill you're going to be responsible for."
Obviously electric bills didn't matter to Ona because she took off at a trot. Watching the disappearing rear end, Shari decided that despite her self-imposed celibacy, life was good.   
You can pick up a copy of Canyon Shadows, available in stores now! For more erotic romance, visit our Everything Erotica Page!