The Wait is Over: Richelle Mead's Last Sacrifice Arrives Tomorrow -- Win it here!
Mon, 12/06/2010 - 3:17pm — admin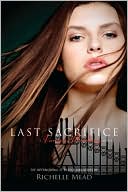 Richelle Mead's final novel in the popular Vampire Academy series, Last Sacrifice, has been anxiously anticipated by fans, and tomorrow the wait is over. The series conclusion will hit bookshelves on Tuesday, but in the meantime readers can check out the *Web Exclusive Review* of the story that RT Senior Reviewer Jill M. Smith calls, "A fitting end to an amazing series!" And don't miss your chance to enter to win a copy of this entire series. 
Read the *Web Exclusive Review* >>
GIVEAWAY ALERT: Five lucky winners will receive copies of Last Sacrifice and one grand prize winner will receive the entire six-book Vampire Academy series. To enter, leave a comment about why you love vampires in YA novels or email your comment here with your U.S. mailing address and the subject line "Richelle Mead's Last Sacrifice Giveaway." One entry per person please. The winners have been picked and confirmation emails have been sent!