We Dare You To Win This Awesome Katie McGarry Giveaway
Mon, 04/01/2013 - 12:17pm — admin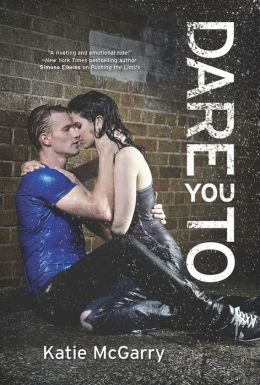 We at RT are HUGE fans of Katie McGarry (if you've read her drama-filled, angsty, dark YA, you'll know why the all caps was necessary). And not to rub it in, but one of the (biggest and best) perks of working at RT is that we get to read books early — books like McGarry's upcoming Dare You To, out May 28 from Harlequin Teen. Oh boy, is it so good and steamy and ... well, you'll have to wait and see. 
Well, all but one of you. One lucky reader will get an advanced copy of Dare You To, so we can all tweet about how amazing it is way before May 28th. Find out how to enter at the end of this post!
For all you other McGarry fans, there's still good news. McGarry wrote a novella, "Crossing the Line," set in her same universe, filled with swoon-worthy, troubled, romantic characters, and it's out today! "Crossing the Line" tells the story of Lincoln and Lila, who only met once — at a funeral — but who forged an amazing connection despite their difficult lives. 
We recently got the chance to talk with McGarry about her writing (another perk, we know) and she had this to say about writing teen characters with such difficult problems, like Beth and Ryan in the upcoming Dare You To:
Because life isn't always sunshine and bunnies and pretty pink unicorns puking rainbows. I think sometimes there's a false perception that teens don't face real issues. I for one dealt with my share of hardships when I was a teenager, and when I write my muse is heavily influenced by the emotions I experienced back then.
I watched those around me deal with the same type of problems Beth faces: abuse and parents with addiction issues. Like Ryan, my friends and I dealt with the reality of becoming adults. If we chose the college route, then we wondered how we were going to pay for it or we struggled to define ourselves when our parents were bent on trying to define our paths for us.
In the midst of all this, I still experienced the rush of first love. And that's also what I wanted for Beth and Ryan. They have a tidal wave of problems pummeling them, but they are granted the awesome opportunity to discover what love really is — that is if they can see beyond their baggage and let themselves truly trust.
I needed hope at that age and still remember how comforted I felt when I found books with characters who had dealt with similar hardships and discovered that there was a shred of hope in the world. Beth and Ryan learn that hope is an extremely powerful weapon in conquering the future.
- Katie McGarry
GIVEAWAY ALERT: One lucky reader will win an ARC of McGarry's Dare You To. To enter, comment on this post telling us the last contemporary YA you read! You can also e-mail your answer here with the subject "Katie McGarry Giveaway," along with your mailing address. U.S. addresses only, please. A winner will be announced here April 8.
BLOG UPDATE: The winner is Daniela Cast.
"Crossing the Line" is available for download today! Expect Dare You To in stores May 28. For more genre news and coverage visit our Everything Young Adult Page.